Secrets in Eating Disorder Recovery
If you've ever attempted recovery from your eating disorder-- especially if you've been in a eating disorder treatment center -- you've likely heard this refrain at least once: Secrets keep you sick.
It's true. Secrets keep us sick. Eating disorders thrive on secrets.
How else could you get by for so long with binging and purging, with eating less than X calories a day, with exercising for hours on end, with spending hundreds of dollars a month on binges? It's not likely that you're broadcasting these things (I certainly didn't) or someone would hold you accountable.
In Eating Disorder Recovery, You've Got to Do it Differently
If you were to sit down and honestly have a discussion with a friend, family member, pastor, therapist, or dietitian, how might that change things?
In my experience, the first thing to follow the [not to be underestimated] anxiety is relief. Don't get me wrong. Your eating disorder will be freaking out. But you - the core of you, your truest self - will be relieved.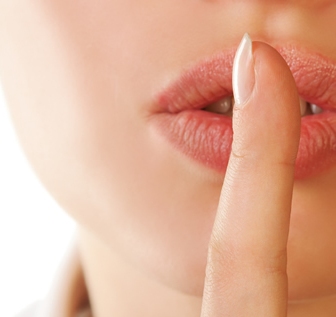 If you truly want to recover from your eating disorder, you've got to let the secrets go. You've got to be honest and accountable to someone (or multiple someones) in your life about the exchanges you're secretly cutting back on, the extra exercise you're sneaking in, the binges and purges that you're not admitting to out loud.
Saying these things out loud to someone else brings relief because all of a sudden, you're not fighting this on your own anymore. You've got someone in your corner. God bless the people who have managed to recover on their own, but they are few and far between. The truth is, if you want to recover, you need to expose the secrets of your eating disorder.
There are people in your life who want you well and who want to help you on the road to recovery. But you've got to be honest with them if there is any hope of them helping you.
If you're not being honest about these things, you're just giving your eating disorder more power. Every time you choose to hold on to that secret, you're saying - however unconsciously - that your eating disorder is more important.
And if you're outright lying to keep those secrets - you're saying that your eating disorder is more important than the relationships in your life.
Forget Your Eating Disorder, What Do You Believe?
If you can, for a moment, separate yourself from your eating disorder. Get in touch with that truest part of you - the part that wants recovery, the part that values health and relationships and happiness.
What is your truest self telling you? Are there things that you need to be admitting to friends, family, and your treatment team?
In the interest of full disclosure, I keep secrets of my own. One of them is that for the past 2 months I've been skimping on breakfast. Not a lot, and rarely enough to affect my overall exchanges for the day, but skipping a starch or fat is not something I should be doing. I know that.
My team knows now. I'm working on eating a full breakfast every morning, regardless of how much it pains me. And sure, just admitting that in a public forum caused my anxiety to sky rocket.
But I don't want to be sick any more.
Are there secrets, however small, that are keeping you sick?
Now take a look at: Secrets in Eating Disorder Recovery, Part Two
APA Reference
Hudgens, J. (2013, January 17). Secrets in Eating Disorder Recovery, HealthyPlace. Retrieved on 2019, September 21 from https://www.healthyplace.com/blogs/survivinged/2013/01/secrets-in-eating-disorder-recovery
Author: Jessica Hudgens