Body Changes in Eating Disorder Recovery
Patricia and I have both written before about the long, slow process of coming to acceptance of your body in your eating disorder recovery. However, it occurred to me that one of the most helpful things in my early recovery from anorexia, was a list of very down-to-earth, very practical do's and don't's for dealing with my changing body. Some of these are things I still use today if I'm having a rough body image day.

Accepting Body Changes in Eating Disorder Recovery
To some extent, these things are only helpful if you come at them with an attitude of acceptance - meaning, accepting that you don't get to choose what your body looks like at the end of the recovery process. (At times it might feel less like acceptance and more like admitting defeat.) This was a really hard one for me to come to terms with. The most helpful thing that anyone said to me with regards to this was told to me by the yoga therapist at my treatment center. She told me that I was missing out on all the things I could become because I was coveting my anorexic body. I was so attached to a dying body that I couldn't let myself really live in this new, healthy body.
That stuck with me in a way that nothing else had to that point. The use of the word "covet" made perfect sense - there was nothing good about this desire - and convicted me enough to look at things in a different way. So however you have to encourage yourself to continue on, do it, but keep going. It does get better, I promise.
Dealing With A Changing Body
[caption id="attachment_2818" align="alignright" width="401" caption="You are beautiful at any size! Thanks to Dove's "Real Beauty" campaign for making this statement with their advertising."]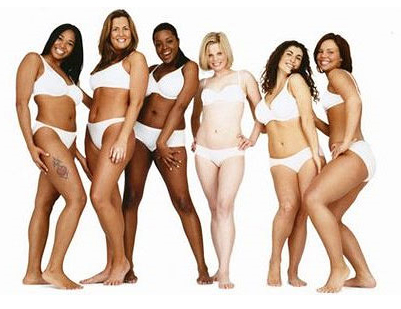 [/caption]
Avoid full-length mirrors: Nothing good can come of standing in front of a full-length mirror and just dwelling on your body. (This is true, really, at any point in recovery and/or life.) Stick to mirrors that will show just your face - just enough to do your make-up or hair. If you're in a dressing room with mirrors, turn away from the mirror until you're fully clothed, then look. Full-length mirrors are just going to encourage body-checking, which is another thing you want to give up.
In the shower: I found it really difficult to be in the shower and wash my body while I was weight restoring. A couple of things made it easier. First, I took showers as quickly as possible, dried off, and got clothes on. I usually find showers relaxing and enjoy feeling the warm water hit my back, but when my body was changing, showers became stressful. I got in and out. Secondly, I used a loofah while showering. It prevented me from touching my body directly and getting stuck in an endless loop of body-checking. I've been weight-restored for almost a year now and I don't need to do these things any more - but it was extremely helpful for the first six or seven months.
Don't get attached to clothes: I practically lived in yoga pants for the first few months I was weight-restoring, because I couldn't stand feeling pants against my waist or legs. I didn't go to buy new pants and shirts until I had finished the process of gaining weight. In the interim, I would wear stretchy clothing that had more give, or if I needed something "new" I would go to a thrift shop. It was much easier to part with a pair of pants or shirt once I outgrew it if I knew that I had only paid $3.00. Once I had hit my goal weight and settled a bit, I went out and bought clothes that made me feel good about my new body.
It's not forever: During weight restoration, I had to remind myself of two things: 1) I was not going to gain weight forever and 2) The weight will re-distribute. The reality is that when you start to gain weight, the majority of it is going to settle in your mid-section. There are a lot of vital organs that your body is trying to protect - and most of them are around your core. Your body doesn't trust you yet - it's not yet assured that you're not going to starve it again, so it keeps the weight where it is most useful. Once you've been weight restored for a while, the weight will re-distribute more "evenly." Do I still carry some weight in my stomach? Sure. But it's not nearly as noticeable as it was six months ago. The trick is sticking through recovery even through that awkward period.
Recognize distortion: One thing my therapist told me last summer was that, on average, women will gain one or two dress sizes through the course of weight restoration and recovery. Only one or two dress sizes. Sometimes, this change is barely noticeable to anyone other than ourselves. So regardless of what your eating disorder is telling you, you don't look like a pregnant hippopotamus. You look like a normal human being. I promise.
It's not about your body: A lot of the time, we will fixate on parts of our body as a way to avoid fixating on the real problems. Begin to recognize your triggers and what feelings make your body "feel" fat. For example, if I'm feeling vulnerable or scared, I am convinced my arms are the size of my thighs. If I'm anxious or upset, I am positive that I look pregnant. The reality is, I'm just dealing with difficult feelings. Recognizing these and reminding myself that my body "issues" are really feelings is important and helpful in continuing forward on the journey to recovery.
These are survival tips that are more suited to anorexia and really borne of my personal experience. I'm sure you guys have a lot of great ideas as well - and some that I've overlooked or missed. I'd love for you to comment below and share your suggestions with the community!
APA Reference
Hudgens, J. (2014, May 22). Body Changes in Eating Disorder Recovery, HealthyPlace. Retrieved on 2019, October 19 from https://www.healthyplace.com/blogs/survivinged/2014/05/body-changes-in-eating-disorder-recovery
Author: Jessica Hudgens