Eating Disorder Recovery Tips for the Holidays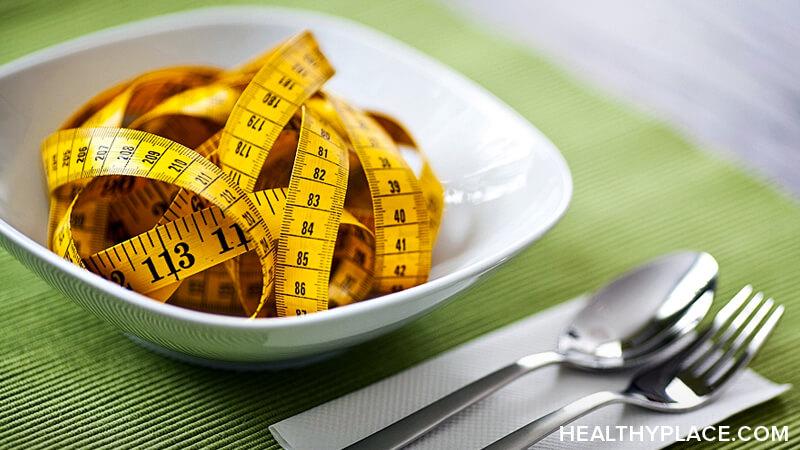 We need eating disorder recovery tips for the holidays because, despite its festive spirit and upbeat mood, this can be a stressful time of year. The tension becomes even more palpable for those in recovery from an eating disorder. Between complex family dynamics, hectic scheduling demands and increased financial commitments, this season often feels more nerve-racking than relaxing. But with the added pressure of an eating disorder, one facet tends to cause more anxiety than all the others combined—food. Since the holidays center around cooking, baking and sharing meals, this can present a serious obstacle for those healing their relationship with food. Therefore, it's crucial to prioritize eating disorder recovery tips for the holidays over these next two months.
Eating Disorder Recovery Tips for the Holidays Can Help Avoid Relapse
For about as long as I can remember, I have experienced food-related angst as the holidays approach. In fact, it's when I become most susceptible to an eating disorder relapse. The incessant batches of homemade cookies, the massive punch bowls of eggnog and the well-meaning relatives who urge me to "put meat on those bones" can turn this season into a minefield I don't feel equipped to navigate. That is my own perception, but I also think it's a universal description of how the disordered eating mentality interprets this time of year.
Engaging in holiday traditions without provoking those distorted thoughts and behaviors is a delicate—sometimes dysfunctional—tightrope. While strained family encounters or daunting meal scenarios are often unavoidable, balancing these outward stressors with inward acceptance, patience and compassion will make the tension feel more manageable. This requires both practice and intention. Setbacks are natural—and should be expected—but when a relapse occurs, dismiss the guilt then recommit to moving forward in a healthier direction. Even if that cycle repeats itself numerous times during the holiday season, be tenacious in the pursuit self-kindness.
Tips to Maintain Eating Disorder Recovery during the Holidays
If you're entering the holiday season in the midst of eating disorder recovery, utilize these methods for coping with stress in constructive—instead of destructive—ways:
Initiate a mindfulness routine. Whether you choose to meditate, practice yoga or recite a healing mantra, this can help you become more grounded in the present and aware of the mind-body-spirit connection.
Keep a daily gratitude journal. Devote a few minutes to writing down five aspects of your life that are worth being grateful for. These can be people you care about, opportunities you receive or attributes you possess, but think meaningful over superficial.
Spend time in the outdoors. An appreciation for the earth is soothing and restorative, so immerse yourself in the crisp weather, focus on the natural scenery and move the body for pleasure—not punishment.
Funnel energy into creativity. Art can be a form of therapy to reframe anxious thoughts onto an aesthetic canvas. From painting and ceramics to sketching and photography, there are several options for channeling your inner artist and easing tension in the process.
Reach out for additional support. When stress levels are high, communicate your emotions to a few trusted allies then accept the encouragement they offer. Whether you confide in friends, relatives or a significant other, recruiting a "holiday support network" is vital.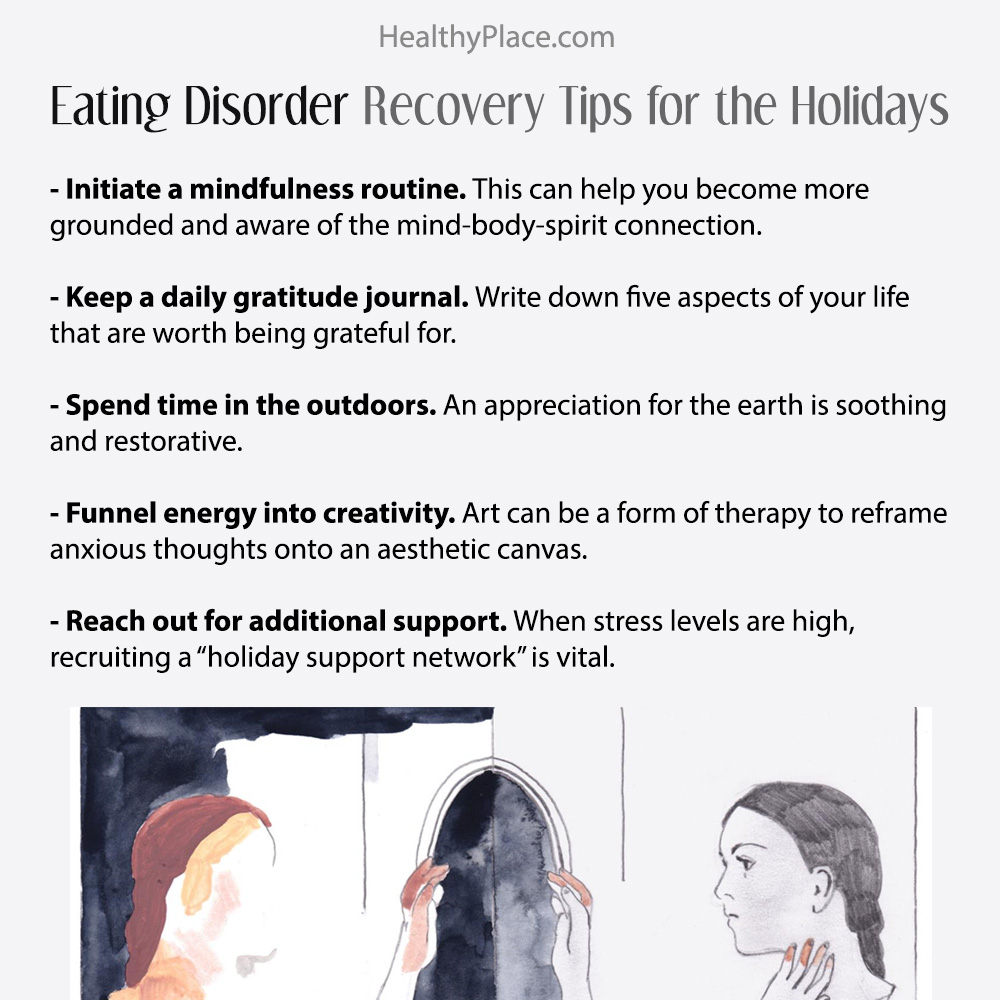 I hope these eating disorder recovery tips for the holidays help you get through this festive season.
APA Reference
Schurrer, M. (2017, November 29). Eating Disorder Recovery Tips for the Holidays, HealthyPlace. Retrieved on 2023, December 11 from https://www.healthyplace.com/blogs/survivinged/2017/11/prioritizing-your-eating-disorder-recovery-around-the-holiday-season
Author: Mary-Elizabeth Schurrer
You make a great point that engaging in holiday traditions without provoking distorted thoughts and behaviors is a delicate, sometimes dysfunctional, tightrope. My best friend is recovering from an eating disorder, and it's been really difficult for her, especially when she's with her family for holidays. I wonder what kind of treatments are out there to help people like my friend regain their healthy perception of body and food.
Leave a reply