What to Do About Depression and Emotional Detachment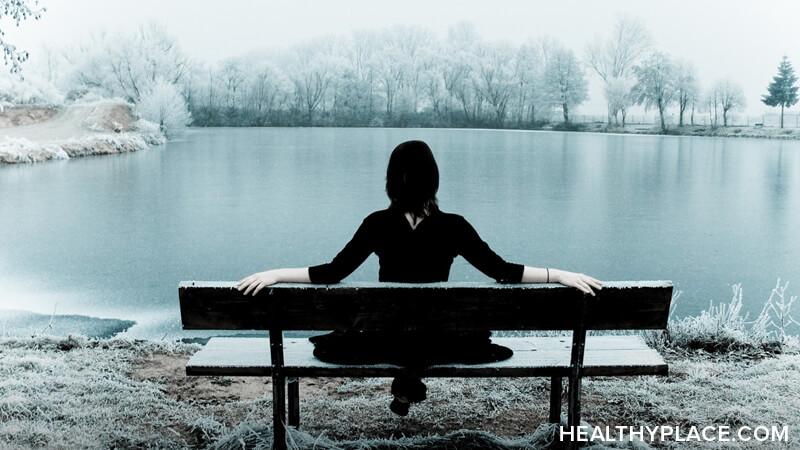 One of the scariest symptoms I've experienced has been emotional detachment in depression. I've witnessed it in other people since I was young, and at times I start feeling detached from situations where I think I might get hurt. Understanding the symptom of emotional detachment in depression helps me work through it.
What the Emotional Detachment of Depression Feels Like
For me, emotional detachment involves feeling a sense of emptiness where I once felt something. When somebody hurt me I used to find it easier to avoid feeling anything than to feel the hurt. It seemed humiliating to feel like I was letting somebody get to me.
Sometimes this would lead to feeling like I was sleepwalking through life. Nothing could make me feel, and I was happy not to manage my emotions. Unfortunately, this doesn't work out so well when you're trying to have a happy, fulfilling life.
Thankfully, the last few years have taught me that feeling these things is necessary for me to make progress.
Emotional Detachment in Depression Is Scary
It is frightening to wake up one day and feel totally different about the things and people I once cared about. It feels like I've become a shell of my former self, like I'm walking around in my own skin but not actively participating.
I don't want to be an inactive participant in life. You only get one chance at this, and feeling detached just doesn't feel like living. When I realized this, I knew I had to start letting myself sit with my feelings.
Some of my emotional detachment has felt linked to anxiety. I never want to feel it when something stresses me out or somebody hurts me, but it was becoming more detrimental to my wellbeing to feel nothing. It was leading to more anxiety.
Emotional Detachment in Depression Changes Relationships
One of the reasons I have worked so hard to pinpoint and change emotional detachment in depression is because detaching has ruined relationships. Some relationships I have needed to break from in order to be healthy, but I found that not feeling the pain linked to these relationships was more detrimental.
Working with Emotional Detachment in Depression
It is hard to change emotional detachment in depression. It wasn't a one-step process. It started by going to therapy, but it took me a few years after therapy to put all the pieces of the puzzle together. I had to see the root of the problem, which was linked to my fear of feeling rejected from people and, really, the rest of the world.
Watch my video about how I've learned to feel my emotions. It hasn't been easy, but it has been worth it. Then, let me know if you have any experience with emotional detachment or not being able to express your emotions.
APA Reference
Horsfall, A. (2017, August 29). What to Do About Depression and Emotional Detachment, HealthyPlace. Retrieved on 2019, October 19 from https://www.healthyplace.com/blogs/toughtimes/2017/08/depression-and-emotional-detachment
Author: Ashley Horsfall
Jimmygirl, I have been dealing with the same thing these past few months, and it has been hurting me so much. I'm sorry you're going through this as well.
Leave a reply