What to Do About Depression and Emotional Detachment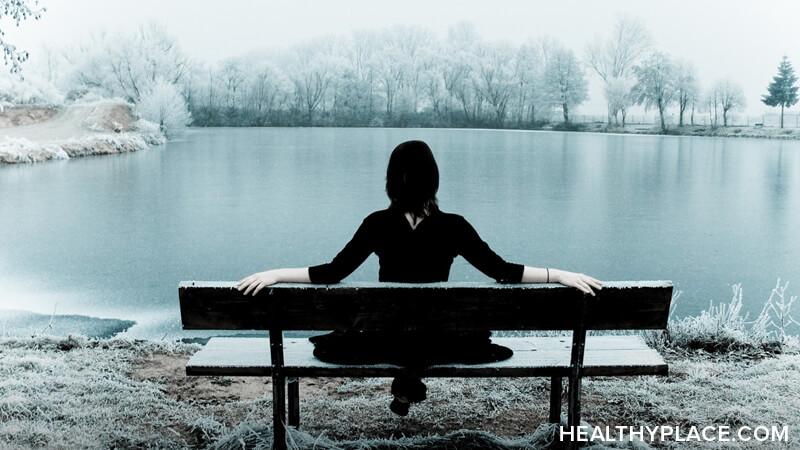 One of the scariest symptoms I've experienced has been emotional detachment in depression. I've witnessed it in other people since I was young, and at times I start feeling detached from situations where I think I might get hurt. Understanding the symptom of emotional detachment in depression helps me work through it.
What the Emotional Detachment of Depression Feels Like
For me, emotional detachment involves feeling a sense of emptiness where I once felt something. When somebody hurt me I used to find it easier to avoid feeling anything than to feel the hurt. It seemed humiliating to feel like I was letting somebody get to me.
Sometimes this would lead to feeling like I was sleepwalking through life. Nothing could make me feel, and I was happy not to manage my emotions. Unfortunately, this doesn't work out so well when you're trying to have a happy, fulfilling life.
Thankfully, the last few years have taught me that feeling these things is necessary for me to make progress.
Emotional Detachment in Depression Is Scary
It is frightening to wake up one day and feel totally different about the things and people I once cared about. It feels like I've become a shell of my former self, like I'm walking around in my own skin but not actively participating.
I don't want to be an inactive participant in life. You only get one chance at this, and feeling detached just doesn't feel like living. When I realized this, I knew I had to start letting myself sit with my feelings.
Some of my emotional detachment has felt linked to anxiety. I never want to feel it when something stresses me out or somebody hurts me, but it was becoming more detrimental to my wellbeing to feel nothing. It was leading to more anxiety.
Emotional Detachment in Depression Changes Relationships
One of the reasons I have worked so hard to pinpoint and change emotional detachment in depression is because detaching has ruined relationships. Some relationships I have needed to break from in order to be healthy, but I found that not feeling the pain linked to these relationships was more detrimental.
Working with Emotional Detachment in Depression
It is hard to change emotional detachment in depression. It wasn't a one-step process. It started by going to therapy, but it took me a few years after therapy to put all the pieces of the puzzle together. I had to see the root of the problem, which was linked to my fear of feeling rejected from people and, really, the rest of the world.
Watch my video about how I've learned to feel my emotions. It hasn't been easy, but it has been worth it. Then, let me know if you have any experience with emotional detachment or not being able to express your emotions.
APA Reference
Horsfall, A. (2017, August 29). What to Do About Depression and Emotional Detachment, HealthyPlace. Retrieved on 2023, December 3 from https://www.healthyplace.com/blogs/toughtimes/2017/08/depression-and-emotional-detachment
Author: Ashley Horsfall
well..it all started with somewhat badly constructed email to my brother around property in Croatia my uncle was selling to him.. My brother misconstrued that as that I was expecting him to go behind my uncles back after decision to sell it to him has already been made.. He called me from US ..I live in UK...at 4AM uk time and literally attacked me...calling me all kind of slander ..saying how I'm dead to him ...that we r not brothers( he is my stepBrother) ..blah ..bah..I was taken a back..and didnt even know how to respond.. He told me we r finished..to loose his contact no. and his e-mail ..never to contact him again... like he laid his ABSOLUTE ULTIMATUM down etc.. Afterwards I tried to go to asleep....could not really sleep..but few hours later I responded via e-mail trying to throw a kitchen sink at him...on how he and my uncle left me alone at my mothers death bed on here last night on earth... How his wife never said anything to my mother about their children's pictures in my mothers house being up in nice sunny living room ( on a piano) while my kid's pictures were always downstairs in a dingy dimly lit basement..and how my sister law never confronted my mother about it being the visitor in the house almost every day...and how she let my mother go into Eternity with that blemish on her soul... Needless to say I'm now cutOff from them and was told by my brother to never write or contact them again.. I was a crap brother to him when he was younger..
His dad was brutal to both of us..Buy I love him dearly and would lay down my life for him if I had to. Same for my sister in law and her kids..love them loads..In fact she wrote back after all this ..saying to give him time/space and to have faith.. Amazingly, as I was typing that e-mail in response to his 4AM call I knew what the repercussions / consequences would be ( I didnt want the repercussions) but still felt the need to self-sabotage a thus far good and loving relationship which we mended over past several years):( Needless to say I self-sabotaged the whole fuking thing and now I'm cut-offom them both...was told never to write or contact them in any form anymore.
This situation hurts almost as bad if not worse them my divorce did. The hurt is unbearable not to mention depression.
I mean what to do...they have detached from myself... so essentially I am detached as unhealthy as it is. Being that it is unhealthy is there anything that can be done. I hear a lot about loving yourself more etc... I cant see any way fwd with this...how can I detach emotionally from them knowing how unhealthy detachment is.
I have a loving boyfriend and I kno I love him but I can never feel it and I can never express it it have made me overthink to the point where I cry so hard I can't breath I'm starting therapy he has never given up on me and understands what I'm going through I just hope I can overcome this and be happy again
Jimmygirl, I have been dealing with the same thing these past few months, and it has been hurting me so much. I'm sorry you're going through this as well.
I have an amazing boyfriend who I met at uni and after about 2 months into the relationship I began to feel detached, like I didn't love him or felt strongly towards him at all. I've gone through so many options but all I've done for the last 3 months is ruminate to the point I'm always depressed, cat concentrate and can't find any joy in anything anymore, as well as my degree which is the reason I came to University in the first place. I talk to him a lot about it and he hates seeing me suffering but is so supportive. I've gotten to the stages so many times where I panic so much that all i can think of is breaking up but then I pull myself out of that because I feel as though I don't want to lose him and the thought of losing him hurts too. I'm living in a nightmare. It's horrible. I'm starting therapy next week so hopefully I get something from that but I just want to be happy. I have always had thoughts about him being in my future even at this early stage!
Hi Laura,
Thank you for the comment. You have taken a brave step to acknowledge therapy as a helpful option in the midst of your current circumstances. Please see our Relationships Community for more information and resources that could help you: https://www.healthyplace.com/relationships.
Mary-Elizabeth Schurrer
Blog Moderator
Hi, I have a friend
He's been hurt by people he cares about many times
I think he's now emotionally detached
But it's weird
When he's around people
Such as me
He can feel one way
Like love
But when he is by his self he feels less to nothing
Like instead of the love he was so sure he felt before
He would then feel like nothing
I don't know how to help him
He doesn't like being like this and I've been looking all over the place for some way to help him
In a way that will keep him in his comfort zone
Any advice?
Thank you for this.
I'm going through this right now.
I've been looking for counseling that I can afford, and at the same time trying to understand why my significant other has begun to distance herself.
I've been struggling with finding ways to express myself. Lately, I don't think she wants to hear what I have to say.
Email me if you have any ideas that can help.
My mom was my best friend until I was 5. That was the first time she fled our house to kill herself. I tried to stop her but I wasn't strong enough to stop her car from backing out the driveway. I fell asleep sobbing and woke up to see her making breakfast. It was then I completely detached from my family. I started planning ways to get away from them. This emotional detachment has effected me in every relationship. I have never had a best girlfriend. Anyone i get close to screws my boyfriend, steals from me or something to the equivalent. I long for a healthy support system. I'm broken.
I am feeling ok at the moment, but when I get depressed I definitely feel emotionally detached. Emotionless and cold. It stops relationships and you being able to socialise properly.and has lead me to do some bad things I would not do when I am well. It is really interesting to read that I am not the only one.
My emotional detachment has surfaced most times when I have faced really big issues or situations and have struggled with how I could deal with them at the same time as continuing to live my life. At some level I realised that I couldn't and so detachment became my tool of survival, from a very young age. This allowed me to function without being vulnerable to the situations I was in at many times throughout my life and mostly choose when I let the emotions out, if ever. I fear that the more I detached, the more depressed I became as I lost touch with who I really was. Now I have little idea of who I am after reaching the point where my emotions began to break through the detachment barriers I had created for my protection all those years earlier. I had a long time where my emotions have ruled me and I am unable to switch to detachment as easily anymore. Overall I'm thinking that it is probably a good thing but it has meant learning new ways of dealing with my life challenges. They certainly haven't stopped!! I guess the detachment and depression helped me to get through some really tough things over a lot of years and for that I am thankful. Now that I am stronger I am able to deal with things better and more directly, at least most of the time. I still have times when it is hard to do and I give myself a break. Nobody said that you have to tackle everything head on, every day! So for now I still take it day by day but am not as tough on myself to do it right all the time - no one is perfect even if I grew up thinking I had to be to be good enough... We do what we need to do to make it through or until we learn better alternatives for us.
I love this read! This is such an important concept to understand: "Thankfully, the last few years have taught me that feeling these things is necessary for me to make progress." It can be hard, and scary and seem easier to just numb feelings but acknowledging feelings allows us to understand why they're showing up and that leads to us being able to accept them and finally, work through them. Detachment can be very scary to feel and even harder to explain to others. Remember that detachment wants you to feel isolated and cut off, that's why feelings like fear, shame, and hurt fuel it more than anything. Detachment doesn't have to have the final say.
Leave a reply