Robin Williams' Suicide: Did He Have a Choice?
Actor and comedian Robin McLaurin Williams died by apparent suicide in his California home on August 11, 2014. His death has shocked and saddened millions all over the world. I'm personally stunned. I grew up with his performances, starting with Mork & Mindy on television when I was a kid. It's a tragic, tragic loss. We took a hard punch on this one, and we'll be feeling it for quite some time.
When a high profile person takes their own life, it triggers the debate about suicide itself. Is suicide selfish? Is it cowardly? How can anyone do that, anyway? And, most importantly, why didn't they ask for mental health help? How come they didn't make a different choice?
Was Robin Williams' Suicide a Choice?
[caption id="attachment_2437" align="alignleft" width="220" caption="Robin Williams. Source: Wikipedia.org."]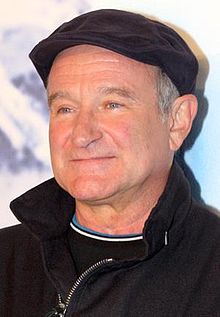 [/caption]
I can't answer any of these questions. I simply don't know. I don't believe anyone really knows.
What I do know is that I've been in a similar place of darkness. A place where the blackness, the emptiness, and the despair were so complete, so overwhelming, that not only did suicide look like an option, it looked like a great option. It made sense.
I remember surveying my own death and feeling rational and utterly lucid. I did not feel psychotic. I did not feel out of control -- quite the opposite. I felt calm, and a strange sense of peace that could almost be called hope. Finally, I could stop fighting. Finally, the pain, at least this pain, would be over. Finally, I could be at peace.
Is that what Robin Williams felt? We'll never know.
Let me emphasize, I do not advocate suicide. I believe everyone has a right to live, and that everyone should be able to get the help they need, free from the stigma of mental illness. If I didn't believe that, I would not be a blogger at HealthyPlace.
What if Robin Williams Had Not Died by Suicide?
Let's consider if Robin Williams had not died by suicide and had reached out instead. What would the consequences have been for him and his family? I believe they would have gone something like this:
Blaring, suggestive headlines across the front pages of every newspaper on earth.
Relentless hounding by aggressive paparazzi desperate to get "the real story."
His wife and children photographed at home, at the store, at the beach, at school, everywhere.
Crass comments in tabloids and on celebrity gossip websites. Just imagine the Robin Williams joke pages on Facebook.
Awkward, creepy questions from reporters, fans, and even friends for years afterwards.
I could go on, but I'm sure you get the idea. Suicide is a dirty word in our culture, made even dirtier by the ugly slander and distorted reality that go hand in hand with stardom. I can't imagine being suicidal and facing that kind of pressure. Can you?
Some will, no doubt, say that Robin Williams' suicide was selfish. Others will feel more compassionate. Still others, including myself, will wonder what his public admission could have done to break down stigma and give hope to those suffering the same feelings. In the end, most people will probably just feel bewildered by it all.
Could Robin Williams have made a different choice? Only he could answer that. For my part, I neither condone nor condemn; I just wish it were different. But I do believe, in my heart, that I understand. He was one of us, and he still is.
More on the Suicide Death of Robin Williams
You can find Greg on his website, Twitter, Google+, and Facebook.
APA Reference
Weber, G. (2014, August 13). Robin Williams' Suicide: Did He Have a Choice?, HealthyPlace. Retrieved on 2019, October 16 from https://www.healthyplace.com/blogs/treatinganxiety/2014/08/robin-williams-suicide-did-he-have-a-choice
Author: Greg Weber