Managing Anxiety During Natural Disasters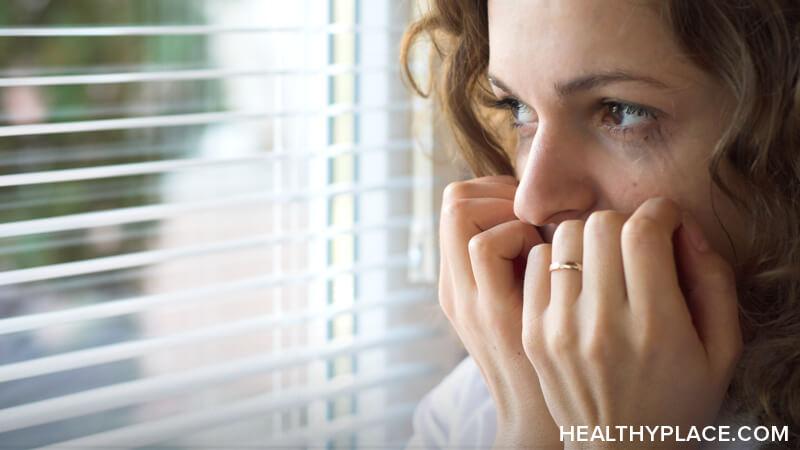 Anxiety is a constant companion that catastrophizes everything and makes even the smallest worries seem insurmountable. So what happens when a major event or trauma arises? How do we manage anxiety levels that – in the face of actual disaster – quickly could become crippling?
Hurricane Harvey landed in Texas this past week, displacing tens of thousands of people and devastating entire communities. Like many others impacted by the storm, I watched and waited to see what would happen to my community and to those around me. When it became clear that Austin, my hometown, would get by mostly unscathed, I turned my attention to my friends and family, many of whom were trapped in nearby areas, evacuating, or suffering major losses from floods and winds.
My anxiety brain went into overdrive. Anxiety happens during times of natural disaster. I know it has been the same for many others out there, whether affected by Hurricane Harvey, the monsoons in India, or the wildfires in California and Montana. We can't function in overdrive, though, at least not for long, and so I've been working doubly hard to manage my anxiety. There are several ways to manage anxiety during a natural disaster.
Managing Anxiety Before a Natural Disaster
Anxiety often manifests as a fear of being out of control. Making a disaster plan can help alleviate some of its symptoms. Prepare a disaster preparation kit and make an evacuation plan (see resources below). Figure out which news or weather resources to monitor and ensure you have reliable access to the information. Stay as updated and informed as possible.
Anxiety also often makes us feel alone and powerless. Sharing those feelings and fears with a trusted family member or friend can help us remember we're part of a community and team. Knowing we aren't alone – and that we have others to rely on – during times of crisis can help dispel anxiety.
Practicing self-care also is crucial during this time. Each of us knows what tips and tricks work to calm our nerves and alleviate our fears. Now is not the time to stop utilizing those techniques. Meditate and sleep, when you can. Exercise, if at all possible, and make sure you have plenty of your prescription medications on hand and close by in case of evacuation.
Managing Anxiety After a Natural Disaster
Continue practicing self-care and try to follow a regular routine as much as possible when you suffer from anxiety due to a natural disaster. This may feel impossible, depending on personal circumstances, but even small actions, like eating dinner at your regular time or reading your children a story before bed, will help reassert a sense of normalcy.
Taking positive action can help us regain a sense of control during difficult times. Make a plan to clear debris or fix your space, if possible. If you're away from home or if your home was unaffected, organize to help others. Donate blood or needed items. Volunteer.
If you're not directly impacted by the storm or event, limiting the intake of information will help you regain balance. Choose one or two reliable sources to monitor, and check in on a scheduled basis. Limit social media, too, if you're feeling overwhelmed or if your anxiety levels start to rise.
Monitoring additional symptoms is also crucial for long-term health. Elevated anxiety is normal during times of stress, but get professional help if you're experiencing prolonged increased anxiety or symptoms of posttraumatic stress disorder after the event.
Resources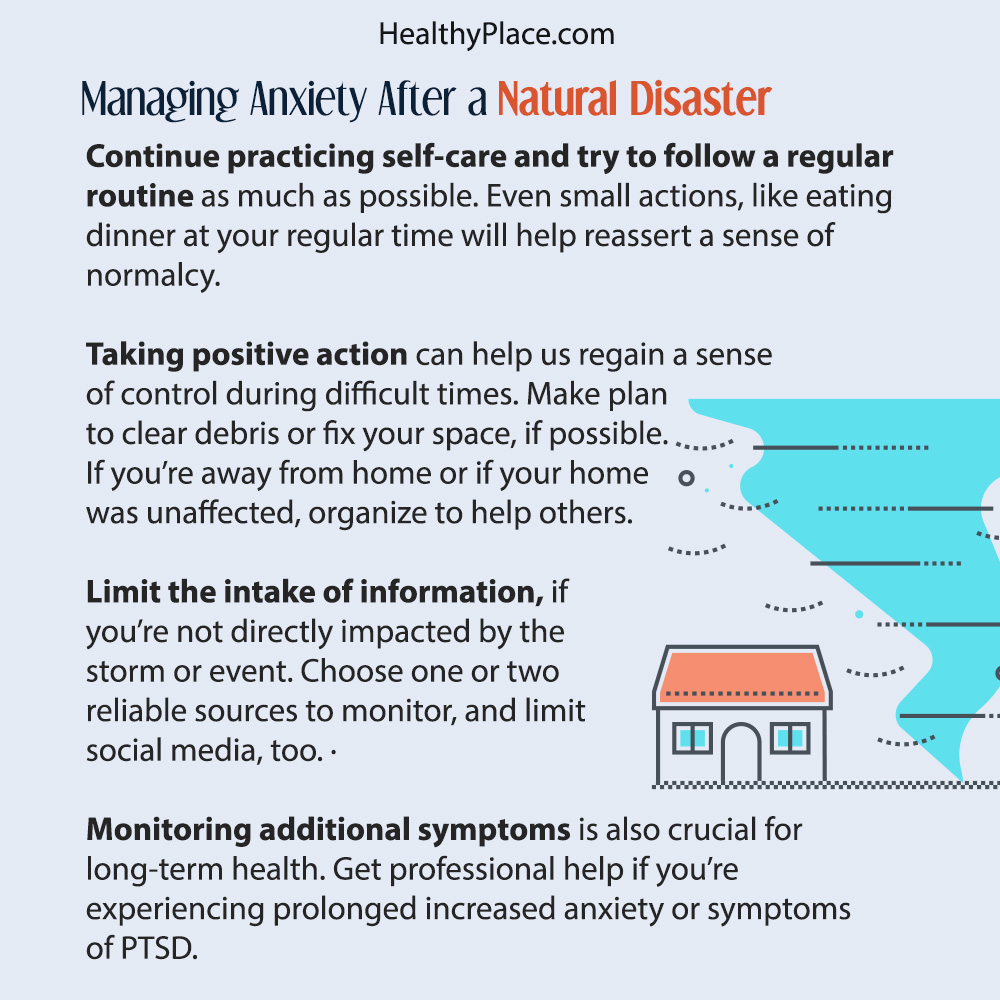 APA Reference
Hackley, S. (2017, August 31). Managing Anxiety During Natural Disasters, HealthyPlace. Retrieved on 2023, September 30 from https://www.healthyplace.com/blogs/treatinganxiety/2017/08/managing-anxiety-during-disasters
Author: Sarah Hackley
Natural disasters presents huge and insurmountable life difficulties that incite anxiety and many others mental disorders. So, it is of great importance to overcome emotional burden, such is anxiety, in order to soften catastrophic outcomes of natural troubles. Your mindful recommendations to manage anxiety before, during and after natural disasters indicate fruitful help to face in sophisticated way with many predictable and unpredictable consequences of any elementary natural disaster. Anxiety as emotional reaction to natural disaster is normal, but it ought to care about primary life needs such are: personal hygiene, food and water supplies, accomodation, medical care etc. Against the offering help and care of others, the preparation and personal will to self care indicates crucial step to overcome irreparable consequences of any natural disaster. The first step to achieve personal control and self-awareness during these natural inconveniences is protection from injuries of fearful greed.
Leave a reply