Things Verbal Abusers Say and Do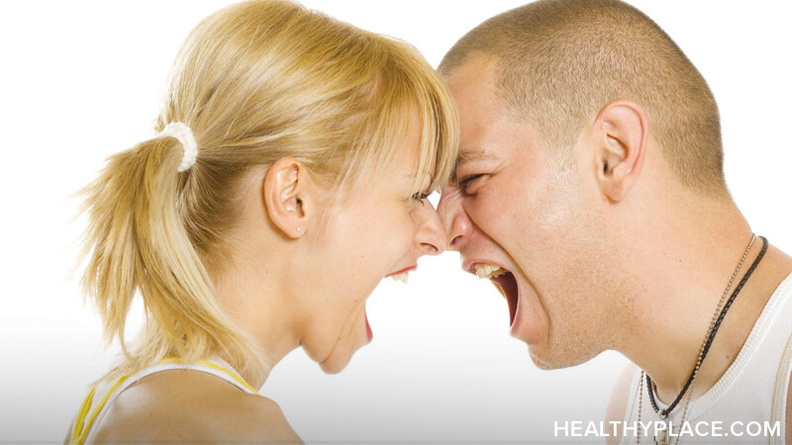 What does verbal abuse sound like? The tone and content vary from abuser to abuser, but the words affect the victim in similar ways. Victims hear horrible things from their abuser and they feel small, withdrawn, angry, helpless, sad, ashamed, and a hundred other horrible emotions - sometimes all at once.
At the beginning of my abusive relationship, I felt anger and stood up for myself leading to loud, circular verbal altercations that had no solutions. Later, after coming to believe that he was my hero, my savior, and my provider, I felt stupid and wanted to fix myself so he would love me. Much later, I turned away and left the house for a while which eventually led to increased physical violence and leaving forever.
Sometimes my abuser's words hurt when he jabs and attempts to provoke me on the phone. Mainly, the memory, the countless memories of the abusive things he's said to me rear up and try to convince me that his remembered voice is my own.
This list is only a partial list of the things verbal abusers say. It's not limited to my own abusive relationship. It takes into account what others report hearing, too.
Things Verbal Abusers Say:
"Why don't you get a job so you understand the real world? Oh, wait - I forgot - you can't get a job because you're a stupid sh!t.
"Quit your whining and crying. You have no reason to cry or complain! Your life is perfect because I made it that way!"
"Bitch" (and the countless other names I won't bother to list)
"I should have left you at the club with all the other whores."
"If you were more like my mother I could worship you."
"I hate it when you act so pitiful. Stop the waterworks and talk like a human being."
"I can't stand to look at you. You make me sick."
"You're such a great actress! You know how to get what you want, don't you?"
"I can't believe I have to come home to you every day. How did I get involved with such a train wreck?"
"I must be the first a$$hole to love you. You don't know how to please a man!"
"You're fat and miserable and you make me hate you."
"You always look like God stomped on your face."
"Why do you care what I want for dinner? My favorites taste like crap when you make them anyway."
"You used to be as beautiful as my ex, but geesh - time hasn't been good to you, baby!"
"Those children are mine, will always be mine, and if you leave you'll never see them again."
Things Verbal Abusers Do:
Deny they said anything similar to the list above.
Defend what they've said.
Analyze what they've said out loud, explaining that the words they used do not have the definitions you seem to think they do.
Block you in a room so you can't leave and thereby avoid what they're saying.
Talk horribly to the television but are really speaking to you.
Flip open their knife to open a piece of gum while looking at you under knitted brows.
Leave to do something else at the last minute when you had plans together.
Take you out for your best birthday ever and then wind up berating you on the way home for not appreciating their efforts enough.
Tell your children you need more happy pills to be a good mom.
Change the topic of the conversation so you bounce from one place to another, never getting to the core of the issue.
Accuse you of being a whore or a dummy or a _________ so often that they no longer need to say the words but can offer up a "look" and you know what they're saying (then they may deny it).
Okay. I have to stop. My stomach is literally upset right now after digesting the utter contempt and hatred some people spew on a daily basis.
If you're still living in this nonsense, learn about detachment and how it can benefit you. Maybe in time you'll choose to leave your abuser, and maybe you'll choose to stay. No one here will judge you for staying (I've been there and it can feel hopeless!), but please work on ways to make yourself feel better in the process.
Start here:
---
You can also find Kellie on her website at Verbal Abuse Journals and can buy her books from Amazon.
*Both women and men could be abusers or victims, so do not take my pronoun choices as an implication that one gender abuses and the other is victimized.
APA Reference
Jo, K. (2012, April 29). Things Verbal Abusers Say and Do, HealthyPlace. Retrieved on 2022, December 9 from https://www.healthyplace.com/blogs/verbalabuseinrelationships/2012/04/things-verbal-abusers-say-and-do
Author: Kellie Jo Holly
Kay Dee wrote on 7th July that her abuser lives with her. I have the same situation. It is the first time I have ever seen this situation addressed, as almost all the abuse advice talk about leaving the abuser. How are you supposed to leave, leaving him in your home. That is why she spoke about selling her house. Difficult to sell when your homehas been damamged and you don't want to let anyone in. The feeling of stuckness is unimaginable if you have not experienced it.
Hi Gloria, I just left my verbally abusive husband after 32 years of marriage. Do IT! He does not deserve to "play husband' to you. He's the joke and you give the punch line by walking out. Better late than never is my new motto!
I am 59 years old and have been in a verbally abusive marriage for almost 38 years. It wasn't WHAM all at once, it has escalated over the years with some times of peace, but mostly verbal abuse. My husband is 65 years old and he is the exact image of the man he said he hated and never wanted to be like - his father.
His father physically and verbally abused his mother throughout their entire marriage up until his death in 2000 at age 86. It was so sad, and now, here I am ready to turn 60 in January finding myself slipping away down the slope of becoming my mother in law.
I am an average built woman - not thin, not heavy either. In 2010 I was diagnosed with ovarian cancer and because of some complications after my surgery I ended back in the hospital for over a week with an NG tube inserted into my intestines and no food except for the IV nutrients fed to me in the hospital. Between my surgery and that episode, I lost almost 30 pounds - I was really, really thin. My husband was elated. He said it felt so good to hug me and feel bones and that if anything I should be happy I had all that happen to me because it made me "look and feel human again to him".
This struggle with his perception of me has been a constant subject for his verbal abuse. He wants someone skinny, I am not. I am 5'10" and wear a size 12 pant and dress. All he does, is complain about how I look and how he deserves better. Today, we were driving in the car and he started on how much he is disgusted with me and that I turn his stomach to look at me. He ranted and cursed and called me so many names unleashing his anger for about 30 minutes, while I was stuck in the car with no where to go.
I work full time and he has just retired and he resents the fact that he feels the need to help out around the house. He brings it up to me every day saying that I am a lazy bitch who is using the fact that I just finished chemo a little over a year ago as an excuse to not having enough energy to do all the things I used to.
I don't need him financially and since being diagnosed with cancer, I have changed my outlook on life and what is important. The stress he causes me every day, and mind you the weight issues is just one of the things he abuses me about, but it is the most prevalent, is not good for me and I don't want to live like this anymore.
He has actually told me twice in the last month and today also that I will need to lose 30 pounds in order for him to think about wanting to be married to me any longer. Although I carry about 10-12 extra pounds, his goal for me will never happen and I told him so. I told him that I would not be able to meet his goal for me and that a marriage based on such shallow expectations is not normal. His reply was, "then there's nothing more to say. Until I move out, you go your way, and I'll go mine. I deserve someone who is willing to look the way I feel a woman should look and that I deserve, because I despise you."
He is always leaving - that is/was his threat to me all our marriage. It used to scare me especially when I was home raising our son, but now I just said that it was sad that our marriage has come to this, but that I would rather live along than with someone who despises me.
I do not want to leave my home, I've lived here for 28 years. I am hoping he finally does leave, but I doubt it, so I will have to start making plans to move out and begin a new chapter in my life. All I know, is that for whatever amount of time I have left on this earth, I need it to be peaceful without all this drama and stress.
So my advise to someone in the beginning of such a relationship is to end it now because you will never be able to change them and they will never change.
Its really a unfortunate situation this happens to anyone, and if i could id save us all. (I know what the feeling is like first hand.. from my own mother, someone i thought would never do this)
if ANYONE wants to talk about anything, i do not care about race, age, sex , etc I just want to offer my services.. PLEASE give my personal therapy line a call 3015808812. Call leave a voicemail of your "name" and tell me a few words.
Everything is free, im just here for anyone that may see this. I feel at my wits end with life and i want to help as many people as i can before i leave. Making people smile, and deeply happy is the only thing that gets me by every day.
:) love you all, we can get through this.
Now this sounds so familiar.
Mine is VERY entrenched in her abuse, lies and fabrications. She plays "Ms. Perfect." Super sweet in public, but wait till the door is closed. She was sweet until the wedding. But it was 2 late, I was stuck as I now had a 3 year old girl calling me Daddy! I tolerated it for the kid. (I remember one day she was angry, she tossed a table knife at me, it hit me in the back of the hand. Next I heard the girl yelling!! Blood was squirting onto her food).
3 more kids. I just cared for them and sluffed off her stupidity. The oldest at 16 got run down by her own abuser, but I had no support form my so called wife. So he took that girl.
After 23 years, and me not responding to her crap, she discovered the internet and moved out. I breathed a sigh of relief. NO that was the beginning of WORSE. Cop cars and the like - She did things to those kids!! But It ended within a month. The kids were with me. (Mom had her sex life computer and didn't cook.) Youngest was my little girl, 9. She was happy with Dad, no games etc. Youngest son never bought his mom's garbage, so she decided his 19th birthday was a nice day for moving out! He was hurt and confused and in 2 months his ABUSER locked in her teeth. Took her 6 weeks to get pregnant and she appealed to his character (just like Dad).
My wife filed for divorce. And I took a strong line, and won for a year! I got custody of the daughter. Well until that day when the court says kid can say. Ex sent cop cars, abuse complaints, etc. It went on. She hurt the kid. The threats and STUPID acts!! Cops every time she mentioned or saw Dad!!
That was 2001. 2003 she kept with counceling the officials! (The key plan is to say all these things, and just when the victim steps on something close or familiar to the story, arrest.)
It came to a head in last 6 months. My father passed and she comes to the funeral with her daughter-in-law and son-in-law. Proceeded to keep three children from speaking to Dad or Grandma at the funeral.
Then this spring, her mother passed away. Mom wanted to be there. And I had never fought with the mother-in-law. So we went. Son in law called the cops, but they weren't buying it. he showed as ABUSIVE. So he was guarding the daughters, and as we drove up he yelled from the Church steps at Mom and I "FU AH"s"!! I made a discovery on the abuse there. Her family? Well They hugged me shook my hand and were so glad I came!!
Her games were carefully hidden!!
Now I need help on how to bust the cycle!
Gordon
I am comforted knowing I was not alone in an abusive relationship. Throughout the 20 years together, I asked for a divorce, tried to leave and apparantly pushed him away. I truly loved him very much and still often think of him although we have been divorced almost 5 years. I found myself a mess/broken when HE decided it was over and found himself a bisexual female with no scruples. They married after the divorce and are still together... and from what my kids say, he has not changed. He is still the same, just changed partners.
I can say that I had convinced myself to stay in the relationship as I realized how much I loved him (even though I wasn't treated well) and we had a family and a wonderful home, etc. It is just very sad that this happened and is such a loss in so many ways. Too bad more abusers don't get help and figure out how to behave in a healthy relationship, so many people would have been spared much pain. Especially the kids.
I met my ex when I was 16. On our first date, we went out for dinner and when the bill came, I reached in my wallet to help with the tip. At first, he smiled and said, "No - let me take care of this." I was used to going Dutch at that age and wanted to contribute so I pushed my money back and said "Let me at least pay the tip." That's when he gripped my fingers together tightly and gritted his teeth and said "NO! I said I've got it!" I must've pouted as I retracted and put my money away. I just didn't know what to think. He could see my feelings had been hurt, then apologized and was almost overly-attentive. I somehow interpreted his aggression as 'mature' and/or 'authoritative'.
Looking back, from nearly Day 1, the relationship was a power struggle and I was always feeling like I'd done something to 'start things' when we had a disagreement. By the time I left in 1999 (I was 37), I just couldn't take another day of being called a 'Dumb bitch', 'Stupid C**t' or a bunch of other choice words. I had tried leaving earlier too, but was told "Who's going to want you? You're fat, you don't have a great job, drive a shitty little car and have two small children. Besides, you were never that good looking to begin with."
I lost almost 50 pounds after that comment and he took credit for my determination to lose the weight! Once I'd lost the weight, I set out to find a new job/career and he tried to sabotage my interviews (the initial screenings were done over the phone) by picking up the other extension and telling me to get the F off the phone. Fortunately, I got the job anyway and after about a year, I told him a wanted a divorce.
Even though my life is so much better now, I've lost my kids due to the continued fighting after the divorce. I can't seem to let go of the hurt or the fact that he still has the ability to hurt me by using the kids against me.
I to am a male that has been abused by my wife we have been married for 33 years and the abuse stems back over decades. I finally had enough and left my wife about a month ago. I was called crazy in the head not to mention the nasty name calling being bipolar 1 this really raised such bad feelings toward myself I actually began to believe the abuse was true. Since leaving I have felt better and just realized how sick the relation was. My wife has approached me and would like to get back together and I said NO. Not until she gets therapy. The hardest part of this whole ordeal is being a male and admitting that I was abused. But, I now realize that I am not the only one. My two daughters support me 100% which is a great feeling as they support my leaving.
Kellie,
I don't know where to start! I live with my boyfriend-well he lives with me. I've finally realized after a long time that he has been verbally and emotionally abusing me. I'm done waiting and hoping for him to change and I'm ready to end the relationship, but he won't leave! He's called me every name in the book, accused me of everything you can imagine,and blames me for all of his problems including him getting fired from his last job(FOR NOT GOING TO WORK!),for having an awful baby's mom(I didn't sleep with her, he did!),and the list goes on and on. He's manipulative, plays victim all the time, irresponsible, self-centered, jealous, passive-aggressive, etc. I can't get a word in edgewise to try to defend myself, or try to talk sense into him. I know I'm not crazy, but his words get into my head and I end up feeling depressed, discouraged, and alone. I can't tell my parents or close friends, they would be disappointed in me for staying with this loser as long as I have.I feel like I'm going to have a nervous breakdown or a stroke from the stress of having to deal with him! I don't know what else to do but to sell my house just to get away from him. I'm not interested in stopping the behavior, I NEED to end the relationship!
Kellie,
I've been divorced from my abuser since 1979. He abducted my children and took them to his family in Guam who have the means and power to keep them. I didn't have the money or support to fight after a couple of years. Plus I didn't want my kids to go through any more. Sometimes a mom has to do unconventional things to protect her children. And there was an unspoken threat that if I fought harder I wouldn't see them again. My kids are grown now and both live near me. We still have to work at our relationship from time-to-time but it's okay. That is except for my daughter-in-law whom he has charmed, and she's not that crazy about me. He's always the charmer in public; vile behind closed doors. Just recently, he and his wife moved here from Guam and are living with my son until they can get settled. I'm pretty upset they are here. A few weeks ago, I was at a party for my granddaughter. It's the first time I'd been around him since my daughter's wedding five years go. (I don't go anywhere he is unless I have to.) I always think I'm going to be fine, but watching him be charming and then just hearing his voice made my hands shake and cold chills ran down my back. I had to work at controlling my fear. Can you imagine still being terrified after such a long time? I have a wonderful therapist and we've been working on strengthening my tools to help with the flashbacks. She is also helping me compose a letter to my daughter-in-law. Face-to-face won't happen. Some of the phrases in your article are very helpful to use. I almost didn't read this. Even reading it brought up the fear. But, it's good. It's all good. Thanks for this.
Kellie,
Forgive me for misspelling your name! I got to recalling this experience and did not check. Details are important to me.
Exactly: I must possess some serious magical powers to 'force' anyone into such a deranged state. I pray for all people who have been victimized by such actions and behaviors. May they find freedom, safety and peace of mind.
Diana
Thank you Kelly for sharing your story. I heard the same things from my abuser, a former boyfriend. Isn't that something, that they somehow 'can't seem to stop' abusing us, yet they don't abuse the world at large. Even many disordered abusers have a sense of right and wrong and abuse us because they can, as one person posted.
My abuser claimed I brought on myself, the name-calling and abuse, although he never used the term 'abuse.' By saying 'no' to him I was 'responsible' for inciting the behavior. In classic abuser style, he would viciously and verbally attack me (as no one ever has) then later apologize. It's gone on for more than a year. I have terminated communication. He persisted in calling me, although he was involved with another woman who he began seeing while I was still in the picture.
Because I refused to have a sexual relationship with him (until marriage), he called me 'dysfunctional,' 'sexually dysfunctional,''old maid,' 'immature,''ice cold,'suffering from 'arrested development,' 'incapable of ever having a romantic relationship.'
Sometimes he would say other vile things and when I would protest, he would tell me to 'lighten up.' The relationship began online and the second time I saw him, when I flew cross-country to his state, he abused me sporadically for 4 days, screaming at me as to why I wouldn't have sex with him or allow him to fondle me.
The night before I was to fly out, he sexually assaulted me. It doesn't matter that I was fully clothed. I cried out for him to stop, but he didn't. He later related the story to his friends who agreed with him that I was 'dysfunctional' and that his fondling was indeed 'no big deal.'
When I got off of him and ran to grab my things from his room (it took about 60 seconds to flee his house) where I was staying (he slept in the living room), he screamed at me calling me the b and c words and spewing other vile filth. His 17 year old son was upstairs but never heard anything.
I fled his house, on a Sunday night at 11:15 pm, in a strange city, several states away from home, not knowing another soul, until I banged on a door and pleaded for help in calling a cab. I honestly thought he would finish the job and rape me that night had I not left. They, thankfully, summoned police who drove me to the airport where I waited until my flight left at 1 pm the next day. The police wanted to find him but I was afraid and did not identify him. He is a brilliant attorney and I feared he would turn things around on me.
He texted me repeatedly saying what I had 'done'(leaving) was outrageous and inconsiderate to him. He continued insulting me, threatened me if I went public on the dating website where we met.
For 1.5 weeks, he demanded I contact him. The night before, I had witnessed his brutal beating - at his own hand. He slapped his face as hard as he could, beat his back, chest, punched his head, etc. He seriously injured himself (concussion, bruised rib, injured cornea) and persisted in verbally attacking me, that is, saying I was to blame.
Hours before I fled his house, we cooked dinner as his family and a friend were coming over to meet me. He kept insulting, taunting me because I refused him sexually. As I chopped onion with a butcher knife, he put his hand over mine holding the knife and stared coldly at me without blinking while he tried to stab himself! If I had let go, he would have been stabbed with me holding the knife. His children were behind him and never saw. Again, he blamed all on me. 'I forced him into a crazy state.' He accused me of being mentally ill.
I have emails, text messages with him telling me I need help, that I am delusional and pathetic. Some of this refers to me not having a full-time job since I was laid off a few years ago. With help from a mental health professional, I have determined this man is likely a borderline personality disorder.
He has recently emailed saying he wants to die and very threateningly said 'Don't you dare call the cops for a welfare check! That's you being passive-aggressive under the guise of helping!' He has repeatedly apologized and just as many times, has repeated this patten of insults. I pray for him but never want to see him again. I no longer fear him and feel very strong because of this experience.
Thank you Kelly for continuing to share your story to help others. Although I know I did nothing to prompt his behavior, I feel vindicated and empowered when I read your stories and those of others.
Diana
abuse survivor!
I think you bring up some good points but I don't quite agree with everything in your article. My brother verbally abuses me and he's done none of the things you have listed in this article. You are describing specific events as opposed to characteristics of an abuser. Not all abusers say and do exactly the same things. The abuse my brother dishes out at me is more vague. (ie: interrupting me to tell me that he knows what I'm going to say, turning up the TV loud enough for the floor to shake as a way to get me to stop talking, always having to prove that I'm wrong, etc.) Those aren't characteristics of an abuser. Those things are specific to my story. On the other hand, narcissism, intense anger/vengeance, and a lack of responsibility (for his or her actions) are just a few common characteristics of abusers. My point is that the things you listed are specific to your story. Its horrible that you were treated that way. No one deserves that kind of treatment. However, you can't generalize specific events from your story as if all abusers say and do those same things things. Every person is different therefore every abuser is different.
My parents are both verbal abusers and neglectful. I tried to confront them but they only became more angry when I did. They accused me of being mentally ill because I began to act angrily and uncooperatively with them. This article and the other one with Dr. Rhoades are the closest I have ever come to describing the sad and frustrating time I have had trying to understand my parents' behaviors. I continue to have the most minimum of contact with them but I discovered that my mother has been secretly meeting with my children and giving them money. They are both young adults. Any suggestions?
I'm with Kellie. It's a choice. I have certainly told my wife enough times that I don't like being called names, ordered around, being made the butt of her jokes, and her making back handed insults about southerners (I am one) or Texas (I was born there and lived there a very long time) or that "men are pigs" etc. Even if she was a moron, she should have gotten it by now that I don't like it and could change IF she wanted to.
I know it's ingrained in now for more than 50 years, but if she had any care or empathy for my feelings she would stop.
My then husband always wanted to be the victim....then everyone would feel sorry for him and give him lots of pity. He has the look of a sorrowful person....It is (was) pretty calculated....He came from a home where his two siblings got positive and negative attention....and he was quiet and basically got ignored. He was "forced" to marry me because our religions were the same...But he was pretty furious, yet covered it well. After he had filed for divorce 40 years later. . . he told me the truth. It made a sham out of what I thought was a sincere marriage.
I have lived with a verbal abuser for 35 years and yes he came from an
abusive home. At one point he was diagnosed with ADHD, but as we came
to find out it was actually PTSD not ADHD. You will find that many children
from abusive situations actually suffer from PTSD but have been incorrectly
diagnosed. I have come to the realization that my verbal abuser does not
verbally abuse everyone at large so he has some control over the issue. He verbally
Abuses me because he can. I know I can't help him, live him enough to cure
him, I can only help me. I am seeking an EMDR therapist to help me with the
Trauma I have suffered and am making plans to leave him. Only he can make
himself stop. Statistics I've heard suggests that 95% of verbal abusers will never
change. Don't waste your lives like I have
Hi Kellie,
Thank you so much for reaching out and sharing your story. Just knowing that there are others out there that can identify with what I went through and that there is help to recover is a relief.
I am so grateful that I finally got the courage to leave that beast. I grew up in a household where verbal abuse was common, and I swore I would never subject myself to that cycle of insanity again in life. Yet there I was in the same cycle of verbal abuse and the more I tried to leave the more he would try and convince me that he would get help and stop.
He would even make attempts to get help and when I would come back it would start all over again. It is truly a sickness a mental condition and needs to be treated by a professional. Anyone who has experienced the trauma should also seek help to heal and recover.
I am bi-polar, & my boyfriend has adult A.A.D. I realize that I am certainly no picnic to live with. But neither is his A.A.D.It has a lot of similarities, to being bi-polar!! I don't know witch is worse!!
Hi Gina and Kellie
Reading through your comments has been such a relief to me because I think my husband suffers from an adult form of ADD and obsessive compulsive disorder and I honestly dont think he has any idea of his abusive nature (most of his family have some type of mental issues as well). This in no way as far as I'm concerned makes his treatment of me any more exusable or right with his constant cruel behaviour. I guess what you have both said confirms many things for me and I am now getting some professional help to learn how to cope with this behaviour....and detach from this. I find that I buy into his abuse so often and the fights that ensure are not pleasant and I am left feeling hurt and angry while he waltzes around in his own little world of denial..his whole family do exactly the same and I honestly think that he doesnt know what he is doing as it is such a normal behaviour pattern for them...and this in no way diminishes his behaviour either..thank you for your article...gaeline
Hi Kellie,
You have really made this topic come alive. I'm sure you've done the important job of "awakening" readers to the idea that they are suffering from abuse. And motivating them to take care of themselves.
I'm always of mixed mind, though, when it comes to using the term "abuser." For one thing, it often implies that the person is abusing a partner on purpose, that it is volitional. Part of a larger, carefully thought-out plan.
Instead, I find that these "abusers" also suffer from mental illness. Often mental illness that confers a lack of objectivity about themselves or other people. In other words, these abusers might truly see themselves as the victims.
While we certainly don't want to condone such behavior or say "they can't help it," I think it's also important to recognize the behavior for what it is: pathology. Otherwise it might be that much harder to deal with the pain caused by the behavior. That much harder to get past it. Because it's so hard to make sense of the fact that someone who seemed to love you can act so cruelly.
As an expert in Adult ADHD, I can assure you that many of the examples you list above are present in some relationships affected by unrecognized ADHD.
It's a complicated syndrome, ranging from mild to severe, and it has some highly problematic "traveling companions," such as antisocial personality disorder and more. Medication can help many of these people to be less impulsive, less destructive, more empathic, and more objective.
Moreover, understanding the genesis of the abuse can help its victim be more pro-active in acting rationally instead of emotionally.
Somehow I think it is less painful, less overwhelming and confusing, for the abuse victim to view such behavior in the light of mental illness than to see it as willful. As long as it means they take active steps to take care of themselves.
best,
Gina Pera, author
Is It You, Me, or Adult A.D.D.?
I was talked out of planned things with my kids (example: Girl Scout sleepover) to have a "special time" with my abuser only to be more of the same ole nothing and miss out on my kids event. I finally learned it was just another way to undermine. As I left with my daughters to go to something we looked forward to for weeks he tried to tell me what project he wanted to start and I smiled and said you go right ahead I will join you when I get back. It felt good. So many more remarks ... so many more ...
Leave a reply