Suggested Medical Tests: Diagnosis of Eating Disorder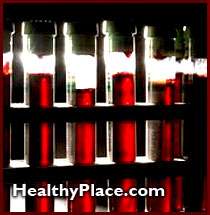 A complete medical assessment is important when diagnosing eating disorders. Talk with your doctor about performing specific laboratory tests.
With eating disorders, the most important first step toward diagnosis and recovery is to have a complete assessment. This includes a medical evaluation to rule out any other physical cause for the symptoms, to assess the impact the illness has had to date, and to determine whether immediate medical intervention is needed. (See Table 1 for specific tests.) Equally important is the mental health assessment, preferably by an eating disorder expert to provide a full diagnostic picture. Many people with eating disorders have other problems (comorbidity) as well, including depression, trauma, obsessive-compulsive disorder, anxiety, or chemical dependence. This assessment will determine what level of care is needed (inpatient eating disorder treatment, outpatient, partial hospital, residential) and what professionals should be involved in the treatment.
TABLE 1--Recommended Laboratory Tests When Diagnosing Eating Disorders
Standard
Complete Blood Count (CBC) with differential
Urinalysis
Complete Metabolic Profile: Sodium, Chloride, Potassium, Glucose, Blood Urea Nitrogen, Creatinine, Total Protein, Albumin, Globulin, Calcium, Carbon Dioxide, AST, Alkaline Phosphates, Total Bilirubin
Serum magnesium
Thyroid Screen (T3, T4, TSH)
Electrocardiogram (ECG)
Special Circumstances
15% or more below ideal body weight (IBW)
Chest X-Ray
Complement 3 (C3)
24 Creatinine Clearance
Uric Acid
20% or more below IBW or any neurological sign
20% or more below IBW or sign of mitral valve prolapse
Echocardiogram 30% or more below IBW
Skin Testing for Immune Functioning
Weight loss 15% or more below IBW lasting 6 months or longer at any time during course of eating disorder
Dual Energy X-Ray Absorptiometry (DEXA) to assess bone mineral density
Estadiol Level (or testosterone in males)
TABLE 2--Criteria for Level of Care
Inpatient
Medically Unstable
Unstable or depressed vital signs
Laboratory findings presenting acute risk
Complications due to coexisting medical problems such as diabetes
Psychiatrically Unstable
Symptoms of eating disorders worsening at rapid rate
Suicidal and unable to contract for safety
Residential
Medically stable so does not require intensive medical interventions
Psychiatrically impaired and unable to respond to partial hospital or outpatient treatment
Partial Hospital
Medically stable
Eating disorder may impair functioning but not causing immediate acute risk
Needs daily assessment of physiological and mental status
Psychiatrically stable
Unable to function in normal social, educational, or vocational situations
Daily binge eating, purging, severely restricted intake, or other pathogenic weight control techniques
Intensive Outpatient/Outpatient
Medically stable
No longer needs daily medical monitoring
Psychiatrically stable
Symptoms in sufficient control to be able to function in normal social, educational, or vocational situations and continue to make progress in eating disorder recovery.
Compiled for the National Eating Disorders Association by Margo Maine, PhD
next: Treating Eating Disorder Patients Against Their Will -- Does it Work?
~ eating disorders library
~ all articles on eating disorders
APA Reference
Staff, H. (2008, December 13). Suggested Medical Tests: Diagnosis of Eating Disorder, HealthyPlace. Retrieved on 2023, December 3 from https://www.healthyplace.com/eating-disorders/articles/suggested-medical-tests-diagnosis-of-eating-disorder
Last Updated: January 14, 2014