Eating Disorder Awareness
HealthyPlace Mental Health Newsletter
Here's what's happening on the HealthyPlace site this week:
Eating Disorder Awareness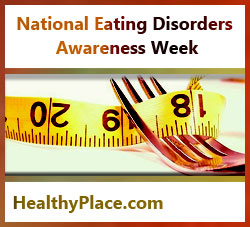 It's National Eating Disorders Awareness Week. Yes, we still need it. You'd be surprised how many people write us every month saying they or their loved one have symptoms of an eating disorder, but they aren't sure if they REALLY have one. To be clear, if you are engaged in any of these eating disorder behaviors - excessively restricting food intake, bingeing, purging (through vomiting, laxatives, over-exercising or any other method) - and it's affecting your physical and/or mental health, then there's a high likelihood you have an eating disorder and you should seek professional eating disorder treatment.
Stigma and shame are other issues facing those with this mental illness. "Surviving ED" blog author, Jess Hudgens says the relationship between shame and eating disorders exists on several different levels.
We have many eating disorder videos and articles on the HealthyPlace.com website. In addition, Jess Hudgens and Emily Roberts, author of the "Building Self-Esteem" blog, have done special videos as part of Eating Disorders Awareness Week. Links to those are further down the page.
Related Articles
Your Thoughts
Is there stigma associated with eating disorders? If so, have you experienced it? We invite you to participate by commenting and sharing your feelings, experiences and knowledge on the HealthyPlace Facebook page.
Help Spread Awareness of Mental Illness
Get Our Mental Health Blog Widget
Nearly 200 sites and blogs are helping spread awareness of mental illness. How about putting our mental health blogs widget on your website, blog or social page? The latest HealthyPlace blog headlines appear as soon as the articles are posted on our site. Just click "Get Widget" at the bottom of the widget, grab the embed code and paste it into your page. You'll also see embed links for Wordpress, Blogger, Linkedin and other social sites there.
As a bonus, put the blogs widget on your site or blog, email us (info AT healthyplace.com) with a page link where it appears, and we'll give a shoutout to your site, blog, or social site on our Facebook and Twitter pages.
---
continue story below
---
Share our Stories
At the top and bottom of all our stories, you'll find social share buttons for Facebook, Google+, Twitter, Pinterest and other social sites. If you find a particular story, video, psychological test or other HealthyPlace feature helpful, there's a good chance others in need will too. Please share.
We also get many inquiries about our linking policy. If you have a website or blog, you can link to any page on the HealthyPlace website without asking us beforehand.
------------------------------------------------------------------
Most Popular HealthyPlace Articles Shared by Facebook Fans
Here are the top 3 mental health articles HealthyPlace Facebook fans are recommending you read:
If you're not already, I hope you'll join us/like us on Facebook too. There are a lot of wonderful, supportive people there.
------------------------------------------------------------------
Mental Health Experiences
Share your thoughts/experiences with any mental health subject, or respond to other people's audio posts, by calling our toll-free number (1-888-883-8045).
You can listen to what other people are saying by clicking on the gray title bars inside the widgets located on the "Sharing Your Mental Health Experiences" homepage, the HealthyPlace homepage, and the HealthyPlace Support Network homepage.
If you have any questions, write us at: info AT healthyplace.com
------------------------------------------------------------------
From the HealthyPlace Mental Health Blogs
On all our blogs, your comments and observations are welcomed.
Feel free to share your thoughts and comments at the bottom of any blog post. And visit the mental health blogs homepage for the latest posts.
------------------------------------------------------------------
Standing Up for Mental Health
Like A Breath of Fresh Air
Don't tolerate mental health stigma in your life. Stand Up for Yourself. Stand Up for Mental Health. Join the Stand Up for Mental Health campaign. Put a button on your website or blog (buttons for family members, parents, mental health professionals and organizations too). We also have covers for Facebook, Twitter and Google+.
------------------------------------------------------------------
Latest Mental Health News
These stories and more are featured on our mental health news page:
How Office Become Complaint Departments
Why We Love Beautiful Things
Just My Imagination ... Running Away With Me
Your Brain At Work: Insights on NeuroLeadership
And the Oscar Goes To: Celebrating Movies—The Big-screen Guides to Human Behavior
Study Findings Reveal Factors Underlying Suicides In The Army National Guard
Increased Risk Of Domestic Violence, Resulting Mental Health Problems For Victims With Disabilities
Victims Of Bullying At Increased Risk Of Anxiety Disorders And Depression Later On
Depression Links PTSD to Life Quality in Bipolar Disorder
That's it for now. If you know of anyone who can benefit from this newsletter or the HealthyPlace.com site, I hope you'll pass this onto them. You can also share the newsletter on any social network (like facebook, stumbleupon, or digg) you belong to by clicking the links below. For updates throughout the week:
APA Reference
Staff, H. (2013, February 28). Eating Disorder Awareness, HealthyPlace. Retrieved on 2023, December 8 from https://www.healthyplace.com/other-info/mental-health-newsletter/eating-disorder-awareness
Last Updated: September 4, 2014