Getting Help for Mental Illness
HealthyPlace Mental Health Newsletter
Here's what's happening on the HealthyPlace site this week:
Where to Get Mental Health Help and Support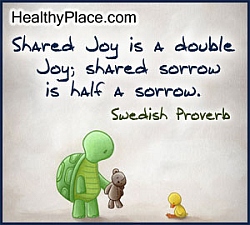 I don't know if we're heading into another recession or not. One thing I know, if you have a mental health condition, you don't want to wait to find out. Now is the time to prepare.
The first thing people want to know about is: "if I lose my job and health insurance, where can I get free or low-cost prescriptions for my psychiatric medications? There are various programs listed in that article. Also, most pharma companies offer prescription assistance programs which can be accessed through their website. There's an income qualification and expect to wait at least a month before you hear back on whether you've been accepted or not. In addition, going the generic route can save you a lot of money.
If you are needing therapy, but can't afford the $50-200/hr. fees that most therapists charge, check with a university near you that has a psychology or psychiatry program (medical school). These programs offer very low fees ($5-25) so their students have people to work with. Also check with your county mental health agency and local United Way to see what's available.
Support groups can also be very helpful. In most medium to large cities throughout the U.S., you can find a Depression Bipolar Support Alliance, Mental Health America, or NAMI support group. They are free of charge, although they're happy to accept a donation if you can afford it. Besides offering support, the people who run these local groups are very well informed about mental health services in the community.
Related Stories
------------------------------------------------------------------
Share our Stories
At the top and bottom of all our stories, you'll find social share buttons for Facebook, Google+, Twitter and other social sites. If you find a particular story, video, psychological test or other HealthyPlace feature helpful, there's a good chance others in need will too. Please share.
We also get many inquiries about our linking policy. If you have a website or blog, you can link to any page on the HealthyPlace website without asking us beforehand.
------------------------------------------------------------------
Most Popular HealthyPlace Articles Shared by Facebook Fans
Here are the top 3 mental health articles HealthyPlace Facebook fans are recommending you read:
If you're not already, I hope you'll join us/like us on Facebook too. There are a lot of wonderful, supportive people there.
---
continue story below
---
Mental Health Experiences
Share your thoughts/experiences with any mental health subject, or respond to other people's audio posts, by calling our toll-free number (1-888-883-8045).
You can listen to what other people are saying by clicking on the gray title bars inside the widgets located on the "Sharing Your Mental Health Experiences" homepage, the HealthyPlace homepage, and the HealthyPlace Support Network homepage.
If you have any questions, write us at: info AT healthyplace.com
------------------------------------------------------------------
From the HealthyPlace Mental Health Blogs
Your comments and observations are welcomed.
Feel free to share your thoughts and comments at the bottom of any blog post. And visit the mental health blogs homepage for the latest posts.
Leaving an Abusive Relationship on HealthyPlace Radio
Kellie Holly knows a thing or two about abuse. Not only was she a victim of abuse during most of her 18 year marriage, but she also learned a lot from the experiences she went through. You may recognize her as the author of the HealthyPlace blog, "Verbal Abuse in Relationships."
On this edition of the HealthyPlace Mental Health Radio Show, Kellie discusses how and why she fell victim to verbal and physical abuse and the difference in her life now that she's out of her marriage.
Helping Children With Asperger Syndrome Access And Apply Emotions
One parent writes the Parent Coach, Dr. Steven Richfield, asking for ideas on how to help her son with Aspergers improve communicating with others. Here's his response.
That's it for now. If you know of anyone who can benefit from this newsletter or the HealthyPlace.com site, I hope you'll pass this onto them. You can also share the newsletter on any social network (like facebook, stumbleupon, or digg) you belong to by clicking the links below. For updates throughout the week:
APA Reference
Staff, H. (2012, June 3). Getting Help for Mental Illness, HealthyPlace. Retrieved on 2023, December 10 from https://www.healthyplace.com/other-info/mental-health-newsletter/getting-help-for-mental-illness
Last Updated: September 4, 2014