How to Believe in Yourself When You Face Mental Health Challenges
HealthyPlace Mental Health Newsletter
Here's what's happening on the HealthyPlace site this week: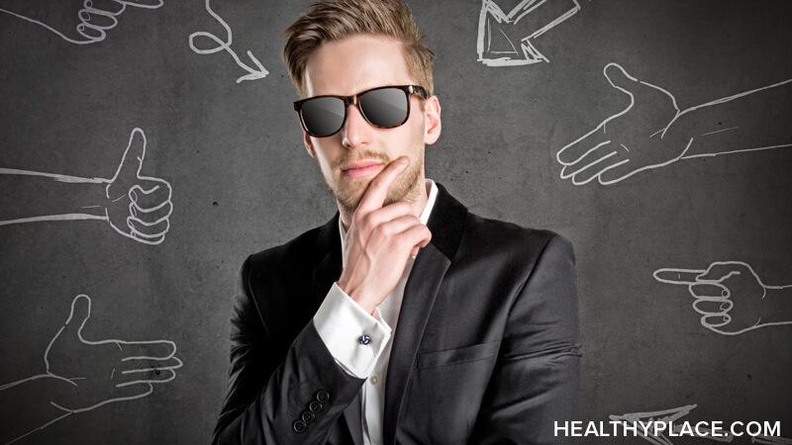 How to Believe in Yourself When You Face Mental Health Challenges
You can believe in yourself even when you face mental health challenges. Mental illness sometimes makes it hard to feel confident. This feeling, though, is just a nasty trick mental illness plays on people's thoughts and emotions.
An important early step in believing in yourself, also called self-efficacy, is remembering that Five Character Strengths of People Living with Anxiety. Mental illness is something you live with, but it's not your identity. Begin to see yourself as the whole person you are; you're more than your symptoms. Here are three other ways to believe in yourself when you face mental health challenges:
Identify your unique character strengths, as these are at your core.
Keep track of all of your accomplishments. Starting with getting out of bed even when you don't think you can, identify what you're doing well throughout the day.
Set a new goal every day, no matter how small. When you accomplish it, celebrate by doing something special.
Focusing on what you can do rather than what you can't is a powerful way to believe in yourself. Really examining who you are based on your strengths and abilities prevents mental health challenges from overshadowing everything wonderful about you.
Related Articles on Believing in Yourself When Facing Mental Health Challenges
Your Thoughts
Today's Question: In what ways have your mental health challenges affected your confidence? We invite you to participate by commenting and sharing your feelings, experiences and knowledge on the HealthyPlace Facebook page and on the HealthyPlace Google+ page.
---
---
Share our Stories
At the top and bottom of all our stories, you'll find social share buttons for Facebook, Google+, Twitter, Pinterest and other social sites. If you find a particular story, video, psychological test or other HealthyPlace feature helpful, there's a good chance others in need will too. Please share.
We also get many inquiries about our linking policy. If you have a website or blog, you can link to any page on the HealthyPlace website without asking us beforehand.
Most Popular HealthyPlace Articles Shared by Facebook Fans
Here are the top 3 mental health articles HealthyPlace Facebook fans are recommending you read:
If you're not already, I hope you'll join us/like us on Facebook too. There are a lot of wonderful, supportive people there.
------------------------------------------------------------------
From the HealthyPlace Mental Health Blogs
On all our blogs, your comments and observations are welcomed.
Feel free to share your thoughts and comments at the bottom of any blog post. And visit the mental health blogs homepage for the latest posts.
------------------------------------------------------------------
Stand Up for Mental Health
Thousands Have Joined the Stand Up for Mental Health Campaign
But we still need you. Let others know there's no shame in having depression, anxiety, bipolar disorder, trichotillomania, OCD, ADHD, schizophrenia or any other mental illness.
Join the Stand Up for Mental Health campaign. Put a button on your website or blog (buttons for family members, parents, mental health professionals and organizations too). We also have covers for Facebook, Twitter and Google+.
------------------------------------------------------------------
Latest Mental Health News
These stories and more are featured on our mental health news page:
A Lack Of Sleep Appears To Affect One's Emotions, Leading To A Loss Of Perspective
Antidepressants During Pregnancy Linked To Autism
Study Reports Childhood Family Breakups Harder On Girls' Health
A New Study Shows That Assisting Friends And Strangers Can Mitigate Ill Effects Of Stress
Psychotherapy Linked To Changes In Activation Patterns In The Brain In Patients With BPD
Stress Appears To Contribute To Alzheimer's
Playing 3D Video Games Was Found To Boost Memory Performance By Around 12%
That's it for now. If you know of anyone who can benefit from this newsletter or the HealthyPlace.com site, I hope you'll pass this onto them. You can also share the newsletter on any social network (like facebook, stumbleupon, or digg) you belong to by clicking the links below. For updates throughout the week:
APA Reference
Peterson, T. (2015, December 22). How to Believe in Yourself When You Face Mental Health Challenges, HealthyPlace. Retrieved on 2023, December 11 from https://www.healthyplace.com/other-info/mental-health-newsletter/how-to-believe-in-yourself-when-you-face-mental-health-challenges
Last Updated: October 9, 2017