Is Having a Mental Illness a Gift?
HealthyPlace Mental Health Newsletter
Here's what's happening on the HealthyPlace site this week:
Perceiving Mental Illness as a Gift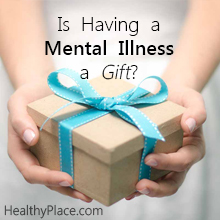 Some hold up famous people and celebrities with mental illness to portray "mental illness as a gift." They claim that having a mental illness allows for an abnormally high level of creativity, artistry or ability to achieve something extraordinary. Even on HealthyPlace.com, we have a list, for example, of celebrities and famous people with bipolar disorder. However, to put things in perspective, when you can only name a few people out of millions who live with bipolar disorder, is mental illness really a gift?
When you consider the effects of bipolar disorder or the effects of schizophrenia or the psychological, physical and social effects of depression or the effects of severe anxiety symptoms on the vast majority of those who deal with these conditions, I don't believe you would consider mental illness a gift.
Mental Illness: Who Wants That Gift
In the DSM-5, the key qualifier for any psychiatric disorder is it must be causing clinically significant dysfunction and/or distress. For most, mental illness carries an extraordinarily high level of suffering. Nearly 1 million people a year with mental illness attempt or complete suicide because they can no longer cope with the symptoms of mental health disorders, the loneliness, rejection and poverty.
There are some with a mental illness who are talented and/or successful. I'm wondering though, out of all those people on various lists, if you asked them face-to-face, would they consider having a mental illness "a gift"? Or you can just peruse the celebrity websites and magazines to see whose been arrested or divorced or acted reckless or checked into a psychiatric hospital or is heading to rehab. That could provide some true insight into whether or not mental illness is a gift they happily accepted.
Your Thoughts
Today's Question: Do you, personally, consider having a mental illness "a gift"? We invite you to participate by commenting and sharing your feelings, experiences and knowledge on the HealthyPlace Facebook page.
Help Spread Awareness of Mental Illness
Get Our Mental Health Blog Widget
Over 370 sites and blogs are helping spread awareness of mental illness. How about putting our mental health blogs widget on your website, blog or social page? The latest HealthyPlace blog headlines appear as soon as the articles are posted on our site. Just click "Get Widget" at the bottom of the widget, grab the embed code and paste it into your page. You'll also see embed links for Wordpress, Blogger, Linkedin and other social sites there.
As a bonus, put the blogs widget on your site or blog, email us (info AT healthyplace.com) with a page link where it appears, and we'll give a shoutout to your site, blog, or social site on our Facebook and Twitter pages.
------------------------------------------------------------------
Share our Stories
At the top and bottom of all our stories, you'll find social share buttons for Facebook, Google+, Twitter, Pinterest and other social sites. If you find a particular story, video, psychological test or other HealthyPlace feature helpful, there's a good chance others in need will too. Please share.
We also get many inquiries about our linking policy. If you have a website or blog, you can link to any page on the HealthyPlace website without asking us beforehand.
---
continue story below
---
Most Popular HealthyPlace Articles Shared by Facebook Fans
Here are the top 3 mental health articles HealthyPlace Facebook fans are recommending you read:
If you're not already, I hope you'll join us/like us on Facebook too. There are a lot of wonderful, supportive people there.
------------------------------------------------------------------
Mental Health Experiences
Share your thoughts/experiences with any mental health subject, or respond to other people's audio posts, by calling our toll-free number (1-888-883-8045).
You can listen to what other people are saying by clicking on the gray title bars inside the widgets located on the "Sharing Your Mental Health Experiences" homepage, the HealthyPlace homepage, and the HealthyPlace Support Network homepage.
If you have any questions, write us at: info AT healthyplace.com
------------------------------------------------------------------
From the HealthyPlace Mental Health Blogs
On all our blogs, your comments and observations are welcomed.
Feel free to share your thoughts and comments at the bottom of any blog post. And visit the mental health blogs homepage for the latest posts.
------------------------------------------------------------------
Stand Up for Mental Health
Thousands Have Joined the Stand Up for Mental Health Campaign
But we still need you. Let others know there's no shame in having depression, anxiety, bipolar disorder, trichotillomania, OCD, ADHD, schizophrenia or any other mental illness.
Join the Stand Up for Mental Health campaign. Put a button on your website or blog (buttons for family members, parents, mental health professionals and organizations too). We also have covers for Facebook, Twitter and Google+.
------------------------------------------------------------------
Finding Your Parenting Path With Your Autistic Child
Parenting a child on the autistic spectrum can feel like walking an emotional tightrope, says The Parent Coach, Dr. Steven Richfield. A lot of it has to due with parental self-judgement and guilt. Here's Dr. Richfield's parenting advice for children on the autistic spectrum.
Latest Mental Health News
These stories and more are featured on our mental health news page:
Poor Physical and Mental Health Reported by Women Working in Head Start Programs
Interventions by Non-Mental Health Specialists May Improve Perinatal Mental Health Disorders
ADHD Cause Unlikely to Be Dopamine Dysfunction
Depression Alert in Asian COPD Patients
Population Genetic Studies May Have Limited Role in Schizophrenia
Bipolar Primary Care Prevalence Varies By Assessment Method
First-Episode Type Predicts Morbidity, Disease Course in Bipolar Disorder
Lack of Neurocognitive Gender Differences in Early Psychosis
Schizophrenic Hippocampal Abnormalities Blamed on Glutamate
Cardiometabolic Risk High for Schizophrenia Patients
Exercise Interventions May Be Needed in Bipolar Patients
That's it for now. If you know of anyone who can benefit from this newsletter or the HealthyPlace.com site, I hope you'll pass this onto them. You can also share the newsletter on any social network (like facebook, stumbleupon, or digg) you belong to by clicking the links below. For updates throughout the week:
APA Reference
Staff, H. (2013, November 7). Is Having a Mental Illness a Gift?, HealthyPlace. Retrieved on 2023, December 3 from https://www.healthyplace.com/other-info/mental-health-newsletter/is-having-a-mental-illness-a-gift
Last Updated: September 3, 2014