Meaning of 50,000 People Talking About Mental Health
HealthyPlace Mental Health Newsletter
Here's what's happening on the HealthyPlace site this week:
Getting Together for Mental Health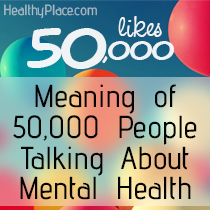 On the HealthyPlace Facebook page, this week, we hit a milestone - 50,000 page Likes (read the story). That represents 50,000 people getting together to learn about and discuss mental health.
Fourteen years ago, the year 2000, when the HealthyPlace.com mental health website opened, individuals and small groups of mostly anonymous people were spread around the Internet just beginning to share their stories of living with a mental illness. Today, with the proliferation of high-quality search engines and social media, access to mental health information and like-minded people is readily available. Off-line, hundreds, maybe thousands, of community-based groups exist offering support and resources to help those with mental health conditions and their family members.
When you look back in time at the level of mental health stigma, and you don't have to go that far back, you can see how far we've come. Thousands of regular, everyday people, like you and our own bipolar blogger, Natasha Tracy, who is receiving a national honor this month for fighting mental health stigma, are standing up, sharing their personal stories and finding millions who can relate. And that's a good thing.
Related Articles Dealing with Mental Health Stigma
Your Thoughts
Today's Question: Do you think the stigma against mental health is beginning to fade compared to 10 years ago? We invite you to participate by commenting and sharing your feelings, experiences and knowledge on the HealthyPlace Facebook page and on the HealthyPlace Google+ page.
------------------------------------------------------------------
Share our Stories
At the top and bottom of all our stories, you'll find social share buttons for Facebook, Google+, Twitter, Pinterest and other social sites. If you find a particular story, video, psychological test or other HealthyPlace feature helpful, there's a good chance others in need will too. Please share.
We also get many inquiries about our linking policy. If you have a website or blog, you can link to any page on the HealthyPlace website without asking us beforehand.
---
---
Most Popular HealthyPlace Articles Shared by Facebook Fans
Here are the top 3 mental health articles HealthyPlace Facebook fans are recommending you read:
If you're not already, I hope you'll join us/like us on Facebook too. There are a lot of wonderful, supportive people there.
------------------------------------------------------------------
Mental Health Experiences
Share your thoughts/experiences with any mental health subject, or respond to other people's audio posts, by calling our toll-free number (1-888-883-8045).
You can listen to what other people are saying by clicking on the gray title bars inside the widgets located on the "Sharing Your Mental Health Experiences" homepage, the HealthyPlace homepage, and the HealthyPlace Support Network homepage.
If you have any questions, write us at: info AT healthyplace.com
------------------------------------------------------------------
From the HealthyPlace Mental Health Blogs
On all our blogs, your comments and observations are welcomed.
Feel free to share your thoughts and comments at the bottom of any blog post. And visit the mental health blogs homepage for the latest posts.
------------------------------------------------------------------
Stand Up for Mental Health
Thousands Have Joined the Stand Up for Mental Health Campaign
But we still need you. Let others know there's no shame in having depression, anxiety, bipolar disorder, trichotillomania, OCD, ADHD, schizophrenia or any other mental illness.
Join the Stand Up for Mental Health campaign. Put a button on your website or blog (buttons for family members, parents, mental health professionals and organizations too). We also have covers for Facebook, Twitter and Google+.
------------------------------------------------------------------
Latest Mental Health News
These stories and more are featured on our mental health news page:
Break Time - The Art of Doing Nothing
Psychologist Helps Huskies Forge Lasting Bonds
The Hidden Benefits of Letting Your Attention Drift
Green Tea May Boost Our Working Memory
Materialistic People 'More Likely To Be Depressed And Unsatisfied'
Improvement In Mental Health Literacy Among General Public
Reasons For Substance Use Vary Among Mental Health Patients
Estrogen Influences Bone Metabolism In Men
Autism: Not Just A Childhood Disorder
Seizure Risk Increased Before And After Psychiatric Hospitalization
That's it for now. If you know of anyone who can benefit from this newsletter or the HealthyPlace.com site, I hope you'll pass this onto them. You can also share the newsletter on any social network (like facebook, stumbleupon, or digg) you belong to by clicking the links below. For updates throughout the week:
APA Reference
Staff, H. (2014, April 10). Meaning of 50,000 People Talking About Mental Health, HealthyPlace. Retrieved on 2023, December 4 from https://www.healthyplace.com/other-info/mental-health-newsletter/meaning-of-50000-people-talking-about-mental-health
Last Updated: September 18, 2014