Disclosing My Child's Mental Illness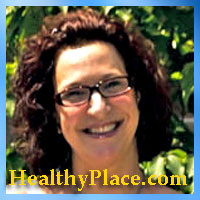 My name: Amy White
Son's age: 18
Son's diagnosis: Bipolar 2, BPD and Mood Disorder
Symptoms since: 2010
The moment when I realized there was a real serious mental health situation with my son was nothing short of surreal. Three weeks before his first trip to the psychiatric emergency department Psych ED), was his 16th birthday, and by all accounts it was a fantastic and fun birthday for all of us. I picked him up from school that day; we went to get his driver's permit and then had lunch together before I dropped him back at school. What I remember most about that day was how much we laughed and celebrated. And then our whole world tipped on end.
For the year or so prior, I had been actively supporting my son through therapy, drug counseling, and encouraging healthy activities, friendships and fun. There were signs of drug use. There were signs of depression and isolation and he was seeing a therapist who felt she had a good handle on the "pretty normal" teen issues he was dealing with. So when on December 23, 2010, out of the blue, my son decided to first attempt to run away and then shared with me that he felt unsafe and needed to go into the hospital, my head was spinning.
Nobody's Talking About Their Child's Mental Illness
What became immediately evident to me as we moved through Psych ED to a partial hospitalization program, and eventually to his first in-patient hospitalization, was that there was very little peer support and very few organized support avenues. This was so confusing to me because as I sat in the waiting rooms and the hospital visitation lounges, I saw many families going through similar situations and yet no one seemed to be talking about it. I kept asking myself "what do these other families do for support?" The answer was a shocking one to me. As far as I could tell, they were doing nothing.
As I began to ask questions of friends and of my personal support network, I found that even when there was knowledge of other families going through similar mental health struggles and challenges, no one was willing to talk about it. I had a healthcare practitioner even try to connect me with another mom in her practice, thinking that we could support each other. I was shocked when I was told that the other mom was not interested in talking. Her reason was that no one knew that her son was going through mental illness diagnosis and treatment. Even her best friends did not know. I couldn't believe it. The people who could help me better understand what was happening and how I needed to navigate the complex mental health care system didn't want to talk about it. It was then that I realized I needed to do something to help others who were going through the same experiences as I was.
I Wasn't Worried About Mental Illness Stigma
As I moved out of crisis mode, I felt that the time was right for me to take all of the lessons that I learned and tools that I discovered and begin to share them by starting a blog. While the blog is still evolving, my intention is to not only share what I had learned going through the process, but also share my personal story in a very raw and vulnerable way. When I started, I wasn't afraid of the stigma against mental illness. I felt that whatever backlash might result from me going public with my story would pale in comparison to the families that could benefit from not having to figure it all out themselves. I felt driven to shed light on the fact that there is a huge need to shatter this mental illness stigma; that we need to talk about it, tweet about it, and converse about it. I tell my story even when it makes people uncomfortable.
Amy White's blog: Far From Paradise
next: Coming Out With Depression and Anxiety
~ all standing up to mental health stigma stories
~ join campaign-campaign buttons
~ all stand up for mental health articles
APA Reference
Staff, H. (2015, January 19). Disclosing My Child's Mental Illness, HealthyPlace. Retrieved on 2023, December 10 from https://www.healthyplace.com/stigma/stories/disclosing-my-childs-mental-illness
Last Updated: June 1, 2015