Help Your Child Develop Healthy Self-Esteem For Life
Are you helping your child develop healthy self-esteem?
Aidan comes home after a particularly difficult day at school in bad mood. He walks in the door, and goes straight to his room without saying hello. Mom is concerned, and asks him what happened. He explains that he was the only one in class that his teacher gave a bad grade to and at recess all of his friends went to play on the swings without him. He appears upset and mom feels confused on how to help him.
Situations like this occur everyday. In order for parents to assist their children in developing confidence and self-esteem and in becoming effective problem-solvers, there are some essential skills to keep in mind.
Low Self-Esteem in Children
It is not just situations outside of the home that contribute to low self-esteem in children. Dr. John Gottman, author of Raising an Emotionally Intelligent Child, found that most parents say five negative or critical statements for every one positive statement to their children. In addition to the stress at school and within peer groups, I would assume it becomes more of a 10:1 ratio of negative to positives. Even if this isn't what they hear, they may interpret it this way.
Low self-esteem in children is linked to a variety of behavioral and mental health problems that can begin now or later in life. Self-esteem influences our attitudes, relationships, behaviors, and emotions. When children don't have the opportunity to express or figure out what their emotions are, we are losing a critical step in developing long-term healthy self-esteem.
So Aidan's mom has a few choices. She can rush to his rescue and call the school ASAP, joining in his bad mood by getting anxious. "Oh Honey, that is not fair. We need to fix this!" Or make a wise choice: "Well are you sure you didn't do anything to your friends? Did you not try hard enough on your paper?" Both of these statements are invalidating and automatically reduce self-esteem, as well as shut down communication with your child. You are essentially ignoring their feelings. So what is a parent to do when trying to help their child develop self-esteem?
Ways to Help Your Child's Self-Esteem
Validate Feelings
Validation is not praise, it's letting others know you hear them. Instead of fixing the problem, discounting their feelings or getting angry with them, a child needs to feel heard, first and foremost. At this time in their developing minds, they may not be able to go from feeling
to logical problem-solving; this is why they need you.
"Wow that does sound like a hard day." Or "So it sounds like you felt left out when your buddies played without you?" What this does is allows them to slow down and think about their feelings. Feeling identification is one of the first and most important aspects in developing healthy self-esteem. When children are able to express themselves, they fell more in control and are able to be more communicative.
Help Them Identify Feelings
No wonder so many adults have trouble expressing their feelings. As children, many were not given the opportunity to identify their emotions. People solved problems for them or they were not allowed to covey how they felt.
Before jumping to fix or assume you know the answer, wait and ask your child how they feel. Get a feelings chart out and ask them to show you or ask what you can do to help make them feel better, and wait patiently. When we allow them to process, by being present and listening, it helps their minds begin to slow down and feel calmer. Then they tell you more or allow you to help problem solve. It could be that he was off task during the assignment. He may tell you that if you give him the chance.
Be Mindful of Your Words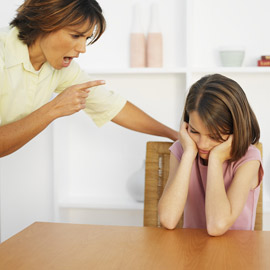 Saying "I love you" and "great job" are phrases parents say all the time. Often parents are so busy multi-tasking and frustrated that they say these words, but the child does not hear them. Remember the five to one ratio? The negative and often critical phrases stick out in a child's mind and, generally, they hear more negative statements throughout the day. " You are always late!" or "Why can't you do what I say the first time?" are examples of things we say without thinking of the outcome.
Even though you are frustrated, chill out before responding. Unleashing your emotions decreases their self-esteem and positive statements become obsolete, leading to low self-worth. If you think about it they are faced with these comments from others all day too. Whether it's a teacher or their peers, kids are faced with an enormous amount of negative feedback on a daily basis.
Avoid "Yes, but…." Phrases.
Comments like: "Good job in English, but I bet if you would have studied more you would have made an A." or "If you just had the study habits of your brother, then you would get better grades." send the wrong message. While your intention may be to motivate your child to work harder and aspire toward greater achievement, comparisons rarely have this desired effect. Children will often withdraw and feel as though they are not good enough to make you proud until they can be like others, which may never happen. When their self-esteem is compromised by feeling inadequate, their grades will often suffer and their effort and focus generally decreases. Make the basis of the conversation about what they need to improve on, rather that alluding to the success of someone else or what your child hasn't achieved. When having this conversation, make sure to point out what makes them unique in your eyes.
Praise
A good rule of thumb: praise your child on the process rather than just the accomplishments or outcome of a situation. I hear so often from kids that they are worried they will disappoint their parents, even when they try their best. Praising the right way allows them to feel confident and focus on the process rather than worrying about the outcome. Try these statements: "I am so proud of you how hard you worked in basketball today." Or "You did an awesome job on that project; I love how you added that color. It's very creative."
Self-esteem develops now. Allowing your child to feel safe and able to process situations with you is an essential part of developing positive self-esteem for life. Although, these are just a few of the many tips out there, good communication is key.
Emily is the author of Express Yourself: A Teen Girls Guide to Speaking Up and Being Who You Are.You can visit Emily's Guidance Girl website. You can also find her on Facebook, Google+ and Twitter.
APA Reference
Roberts, E. (2013, February 20). Help Your Child Develop Healthy Self-Esteem For Life, HealthyPlace. Retrieved on 2023, December 8 from https://www.healthyplace.com/blogs/buildingselfesteem/2013/02/help-your-child-develop-healthy-self-esteem
Author: Emily Roberts MA, LPC
Es incre?ble la facilidad conque se puede enga?ar a una persona y la forma en que el tiempo se puede " congelar " para que 8 d?as se conviertan en 5 meses, posiblemente en 6, 7, 8. Almost every insurance carrier will give you good savings to program women and men.K.To fix the latest locking issues, our team has develop a device that can unlock the latest number of second . Invest inside your very own company cards with your title and corporation logo on them. Cheap NFL Jerseys. It appears apparent, but some house owners create the error of forgetting this method and closing with a significant deluge which demands further remodeling. Wrong! I have heard too many buyers tell me they are O." "If you like domination, then go for it," she tells AdamandDrew.Cheap Jerseys China. It really isn't worth it. Saturated Fats: Most saturated fat is found in foods that come from animals,Cheap Jerseys From China, although some saturated fat can come from plant sources. Here are some examples: Butter is an example of a saturated fat. with a home they have made an offer on and don t need a professional home inspection completed.Visit my site:https://www.wholesalejerseysweb.us.com/
[...] certain language, questions and ways of acting that can help build self-assurance, confidence and a healthy self-esteem in your child. When parents use the right skills, it also enhances the relationship with their child in terms of [...]
Leave a reply