'Ban Bossy' and Build Confidence in Girls
Words matter. Confidence in girls is lower than many of us want to believe, but the numbers don't lie. The rate of girls who suffer from mental health disorders is higher than it's ever been in history. In order to have more confident adult women, more attention and awareness needs to be placed on raising confident and empowered girls. This is still a very tough task in a society that emphasizes beauty before brains and assertiveness and speaking up is considered a "bossy" character flaw.
Experience shapes us and the messages we receive from a very young age can determine what will hold us back in the long run, stifling our confidence in particular situations. A successful woman said recently "I am confident I didn't need a campaign or role model, I saw what I wanted and I took it, I never let anyone say 'no' to me!" This isn't the example of confidence I want to be shown to a classroom of third grade girls. This is aggressive and flawed. We need women to open up about the limitations they have faced, the struggles they've overcome to achieve confidence they now embody. This inspire girls to become leaders who assertively get what they want, and are respected for doing so.
Ban Bossy Campaign
BanBossy.com revealed itself to the world last Friday, just one day before International Women's Day. Girl Scouts USA and LeanIn.org collaborated to start this program, the organization spearheaded by Facebook Chief Operating Officer Sheryl Sandberg.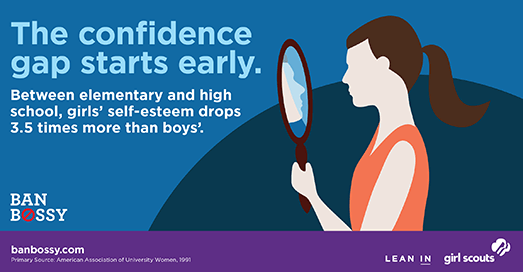 "Being called "bossy" -- a word that carries a stigma, especially for women who first had it hurled at them as girls -- can keep ambitious women from taking the next step in their careers." Says Sheryl Sandberg. She's right the cultural messages girls receive about positions of power, assertiveness, and equality are out there, but they are very few and far between. Role models exist but referring to famed females of the past doesn't cut it. Girls cant identify with Marie Curie or visualize what steps were taken by female entrepreneurs that are outdated, older, or irreverent to their digital and fast paced life of today.
Celebrity Role-Models Make an Impact
Enter Beyoncé, who jumped on the bandwagon to help spread the message of Ban Bossy: girls can be powerful, ambitious, and in leadership roles. Forgo your judgements on her lyrics and her lifestyle for one moment and think about this. In order to have a role-model, regardless of gender or persona, we need to admire, look-up to, and feel like we can connect with them. Our media-saturated lives make that easier for us to do with celebrities because of the PR powerhouses that make them known.
I would love to tell you that hundreds of girls I've talked to this year look up to Gloria Steinem or Oprah but they don't, their moms do. Instead of pushing them to find role models of the past or who are decades older, I ask them to find women in the now that they look up to and why. I could give them a history lesson and risk watching their eyes glaze over, or do my job and inspire and improve confidence.
Celebrities are relevant to the girls of today, there is an repeatability in their public lives, they feel like they can relate to them. Which is why Queen B is on point with getting on the Ban Bossy soapbox. They tend to look up to those they see often, where do they see them? In film, television or in print. It is not to say that they don't need a few more notable CEO's and entrepreneurs in their lives, they certainly do- but they are shown very few unless they are in the limelight.
Introduce These Girls to Our Girls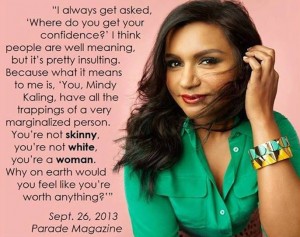 Mindy Kaling: Dartmouth alum, Mindy Kaling was hired as a writer on "The Office" when she was 24 years old. Nine years later, she's now writing, producing, directing, and starring in a sitcom on Fox, "The Mindy Project." She's also written a best seller. She is candid about her success in television and comedy as an Indian American woman and has used that to show the world that even in a male dominated industry like Hollywood, determination pays off.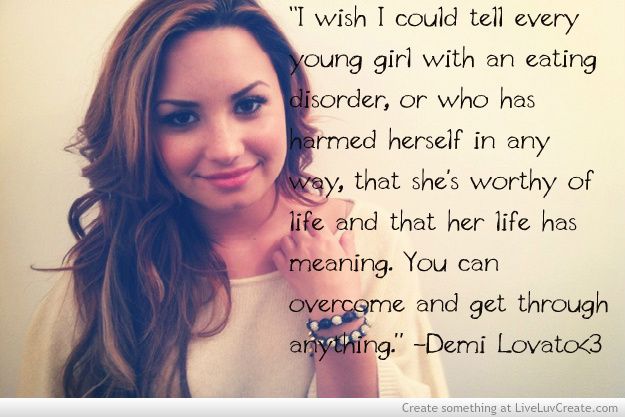 Demi Lovato: At the age of 18 she courageously sought mental health assistance for bipolar disorder, self-injury, and eating disorders. Along with her "stay strong" motto, she's demonstrated that obstacles can be overcome, and that mental health shouldn't be stigmatized. Which is what highlights her as a different type of role model. "It's not about being perfect. It's about speaking about your issues and inspiring others to get help."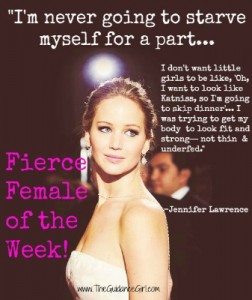 Jennifer Lawrence: I don't know her personally, but the way she has genuinely handled media harassment and bullying has been pretty remarkable. Oh and let's not forget that she has talent, winning two academy awards before the age of 22. When studio execs wanted her to lose weight for her role in the Hunger Games, she stepped up to the plate "We have the ability to control this image that young girls are going to be seeing. Girls see enough of this body that we can't imitate, that we'll never be able to obtain, these unrealistic expectations, and this is gonna be their hero, and we have control over that."
What role-models do you look up to? How have you helped girls (or yourself) find female role models who are both in and out of the celebrity spotlight?
Emily is the author of Express Yourself: A Teen Girls Guide to Speaking Up and Being Who You Are.You can visit Emily's Guidance Girl website. You can also find her on Facebook, Google+ and Twitter.
APA Reference
Roberts, E. (2014, March 12). 'Ban Bossy' and Build Confidence in Girls, HealthyPlace. Retrieved on 2023, December 1 from https://www.healthyplace.com/blogs/buildingselfesteem/2014/03/ban-bossy-and-build-confidence-in-girls
Author: Emily Roberts MA, LPC
It is too bad we have to talk about banning a word. Maybe we should try to embrace it. Maybe we should teach girls to be a little bossier.
Leave a reply