Stuck in a Rut? How to Get Out and Move Forward
So you've been stuck in a rut, lost the momentum or are feeling less than jazzed about your life. Maybe the dreams you wanted aren't so great in reality or the ideas you thought would bring you happiness are no longer serving you. Sound familiar? Your confidence and self-esteem takes a hit when you're stuck in a rut; you lose life-balance and tend to freeze or take a few steps back into your comfort zone.
When your world looks dismal or you are sick and tired of being sick and tired, it can be so hard to feel good about your ideas, your future or even the next step.
Take Beth, an Ivy League grad who is more excited about going to the dentist than she is to the office. She thought her career path and credentials would be it. She would feel good about herself, her pay check and her future if she made it through the long nights of studying and stacks of paperwork to get her to the job of her dreams.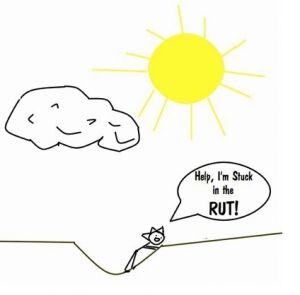 The reality is, she would gladly take a pay cut to pursue her passion but she doesn't even know what that is any more. The day to day grind makes her feel more lethargic than full of life, and the confidence and excitement she exuded during school is a far memory. Can you relate?
Reality Check to Help Self-Esteem
For Beth, even if she quit her 9-5, she will have still lost that lovin' feeling for herself. She followed her dreams once and look where they lead her: into the rut! Feeling frustrated and far from happy she sought out direction with counseling. The questions she answered were not as much about mental health, but her dreams, desires and ideas that she hadn't been able to focus on in years.
Questions for When You're Stuck in a Rut
Could your view of the life you are living use a pick me up? Read the following and write down your answers. It may take a little time but they can point you to a positive more productive place with greater self-esteem.
How would I like to grow personally? What would happiness in my personal life look like and feel like?
How would I like to grow spiritually? What would this look like, what would it feel like?
What would I do with my time if I had financial freedom?
When I was a little kid, what did I pretend to be? Where did my imagination take me? What jobs or careers did I want then?
What is something I want to try but have been putting off? Why am I putting it off (lack of time, fear of failure, fear of starting something new)?
Where do I find meaning and purpose in my life - with particular people, activities, places?
Where do I want to travel? What do I want to see or do in this world?
What causes or non-profit ideas make me smile or intrigue me? Why might I be pulled towards these campaigns?
Who do I admire? What do they do with their time?
If I had one month off, with no work, school or obligations how would I spend my time?
These questions can help launch you into thinking a little more about what you want to feel, do or create with your life. It doesn't mean you can leave your desk job or current relationship and Eat, Pray, Love it around the globe, but you could do it someday. The more ideas you have, the more you can find meaning in the rut that your currently in and the more you can help your self-esteem. There is a reason you are here, in this state of mind - it's to give you view of the path your on and explore options.
"Every day do something that will inch you closer to a better tomorrow." -Doug Firebaugh
Emily is the author of Express Yourself: A Teen Girls Guide to Speaking Up and Being Who You Are.You can visit Emily's Guidance Girl website. You can also find her on Facebook, Google+ and Twitter.
APA Reference
Roberts, E. (2014, March 27). Stuck in a Rut? How to Get Out and Move Forward, HealthyPlace. Retrieved on 2023, December 1 from https://www.healthyplace.com/blogs/buildingselfesteem/2014/03/stuck-in-a-rut
Author: Emily Roberts MA, LPC