Help Your Child Feel Confident at the End of the School Year
"Schools out for summer," well, almost. I have had the Alice Cooper song stuck in my head as the calls and emails from concerned parents have been flooding in. As the end of the school year comes to a close, children face many emotions that can take a toll on their confidence. Both children and adolescents alike can experience anxiety and a drop in self-confidence around the end of the school year.
It's not just the tests and projects that burn them out, but the anticipation of a new routine, saying goodbye to their teacher and friends, and preparing themselves for a less predictable schedule. Many parents underestimate how difficult this transition can be and don't realize that their child's confidence about themselves and their future can be vulnerable as the school year comes to an end.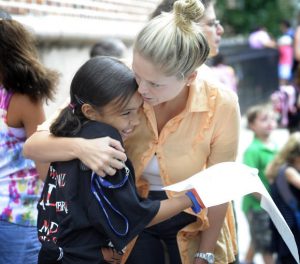 For nine months your children followed an established routine with every minute structured. The thought of going into a more relaxed routine is scary for many kids whose brains have been running on "high." Sensitive students and those with special needs are particularly vulnerable, as they feel more confident when they have a set schedule.
Why Your Child Feels Less Confident at the End of the School Year
Parents wonder why their child has become unglued, more anxious, or irritable, their brains are burned out. Like running a marathon, their brains are trying with all their might to finish strong, but may not have the reserves necessary do to this. Their brains and behaviors won't magically transform once they head back to school next fall. We have so many children coming in for therapy in August and September who suffer from a major dip in confidence, anxiety-driven behaviors, and who want to stay home. Many parents admit they wish they would have helped them as soon as summer started, instead it interfered with their academic year.
Their peers and teachers are tired and stressed. Environmental factors play a huge role in how your child is feeling. If their friends are wired, their teachers are tired, this can impact your little one. They pick up on the energy of those around them.
Signs Your Child's Confidence is Dwindling As School Comes to a Close
He/she doesn't want to go to school, especially on a test days or the last days
More irritability, meltdowns, or reverting into toddler-like behaviors
Changes eating and sleeping patterns, trouble falling or staying asleep
Obsessive thoughts or talk about "what will happen"
Becoming stuck on topics
Has stomach aches or nausea
Puts themselves down or calls themselves "stupid"
Angry, either at his or her loved ones, or directed at school, or themselves

How to Help Your Child Transition to Summer Confidently
Be honest with yourself. "Am I the contributor or supporter?" Some parents unknowingly heap stress on their kids. Parents have their own stress about what the transition will be like or if their child will make the grade. Talking too much about grades or summer plans sends the message that they measure their child's worth in terms of grades and test scores, which does not build their confidence. Some parents think that if they don't push their kids, they are being irresponsible. But pushing them while they are stressed and anxious, instead of guiding and assisting them, will only create more anxiety and fear. They need your support, not another teacher or coach.
Practice validation and empathy. Using empathy to try and identify what they are feeling can be a huge relief to a stressed out child. If your son comes in pouting, try, "Hey buddy it looks like your not feeling great, wanna talk about it?" instead of, "You have to get to baseball or get started on homework." Validate why they may be feeling this way," I know it's the end of the year, and I bet it's pretty overwhelming, is that how your feeling?" If they are not answering you or you feel stuck try this simple phrase: "Can you help me understand how you are feeling?"
Try not to underestimate the anxiety of camp or new activities, it feels invalidating. Camp is not a replacement of school and can cause anxiety for many children. Who will my counselor be, what will I do all day, will I make new friends? Where is it located? What time will I see Mom or Dad? These questions are all looming in the background of finishing up school.
Make a schedule that they understand. Use colors and pictures to show them what the next 2-3 months look like. Place it somewhere they can see it and refer to it as needed. Have them help you decorate and come up with some family outings or activates it so they feel a sense of ownership over the summer months. If they get stuck on worrying about months to come, try one week at a time.
Help them feel confident saying goodbye. Suggest that your child stay in touch with their teacher and friends through email or snail mail. Ask your child's teacher for her address or personal email so that they can stay connected. A post card from vacation to his former teacher or letter to his friends while away at camp can help them feel connected and confident about their relationships, even though they aren't seeing these people every day. This will help emphasize that your child's teacher will not just disappear after he leaves her class. When school starts encourage your child to visit her "old" teacher.
Wait until it's time to turn the calendar from July to August before talking about next year. The phrase, "Now that you're going into ______ grade," will make your child begin to look forward which can terrifying. Try to praise them for finishing up this grade before making him or her anxious about the next.
What suggestions do you have for parents struggling with helping their child feel confident as the school year comes to a close? Any tips or techniques that have helped your family? Share them below.
Take Good Care.
Emily is the author of Express Yourself: A Teen Girls Guide to Speaking Up and Being Who You Are.You can visit Emily's Guidance Girl website. You can also find her on Facebook, Google+ and Twitter.
APA Reference
Roberts, E. (2014, May 15). Help Your Child Feel Confident at the End of the School Year, HealthyPlace. Retrieved on 2023, September 23 from https://www.healthyplace.com/blogs/buildingselfesteem/2014/05/help-child-feel-confident-end-school-year
Author: Emily Roberts MA, LPC