Communicating Effectively Is a Skill You Can Learn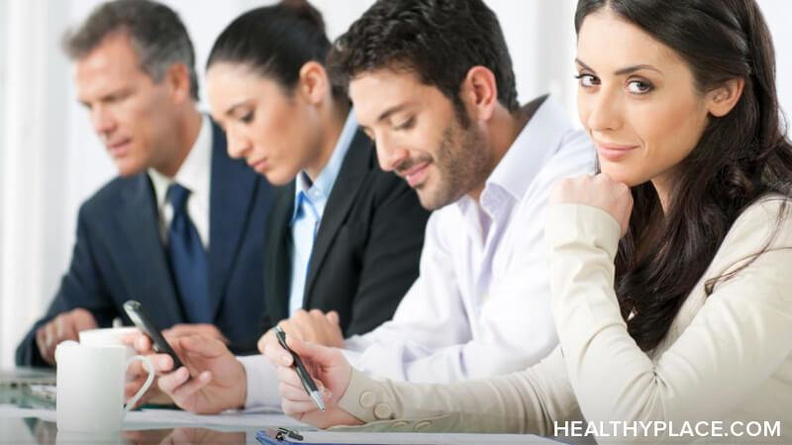 Communicating effectively is important for a healthy self-esteem, making and maintaining friendships, relationships, social interaction and speaking up for yourself. Communication effectively is a skill that you can learn, and it will get better with practice. As you improve your skills, you'll communicate with more confidence and your self-esteem will be better. Here are some tips on communicating effectively.
Barriers to Communicating Effectively
Your ability to listen to others decreases when you have distracting thoughts such as being boring, getting it wrong, not being liked or being rejected by the other person.
Your inner critic can prevent you from speaking up.
Your body language may be closed.
However, there are things you can do to communicate more effectively.
Communicating Effectively by Listening
Communicating effectively opens up a two-way street of both talking and listening. It's not enough to hear what the other person has to say, it's also about being fully engaged in what they're saying. Inadequate listening skills are one of our biggest obstacles and it's a common issue. To properly listen, it's important to be fully present in the moment. This is particularly difficult when you're anxious or your negative thoughts are overpowering.
Some ideas on managing this are practicing mindfulness and focusing your attention on the other person. This is particularly good in diverting the attention off yourself and your inner self-talk. It also helps with the anxiety and is a skill that will take some practice and time to build.
It's helpful to show an active interest or curiosity in the other person and be genuine about it. Showing an interest helps to focus your attention and it opens up the conversation. Listen and ask appropriate questions without interrupting. If you don't understand, ask for clarification or paraphrase to show that you do understand. It's important to avoid judging, even if you don't agree. You'll get a chance to have your say too.
Communicating Effectively By Speaking Up For Yourself
If you have low self-esteem, you might have trouble speaking up or you may feel like others don't listen to you. Remember that you're just as important as the other person and a conversation needs to be balanced. You have the right to express your opinion and the right to say no.
Practice being assertive. Let the other person know about you and be yourself. Let them know what you think and feel. Accept that not everyone will agree or like you. Being yourself creates more genuine relationships and attracts the right people for you.
When you don't know what to say, ask questions, look for commonalities or even start with your current environment. Remember that both people have the responsibility to keep the conversation going. Give yourself permission to go for it and make mistakes. You may worry about being boring or being rejected but do it anyway. What's the worst that can happen?
Communicating Effectively with Body Language
In addition to the actual words said, it's important to have open body language. Body language speaks louder than the actual words. Smile, have eye contact and be open in your general posture as much as possible. Your tone of voice makes a difference, too. Act confident even if it's not what you're feeling. There's a lot of truth in the phrase "fake it until you make it." Conversely, it also helps to be aware of the other person's body language.
When you communicate with confidence your needs will be better expressed and you'll have more freedom to be yourself. Naturally, you'll start to make more meaningful relationships and your life will be better in so many ways. Step outside your comfort zone and find situations to practice your effective communication skills. It's okay to make mistakes, just give it a go. Don't worry about getting it right, just do it and you will keep getting better. Go for it.
You can find Fay Agathangelou on Facebook, Google+, Twitter, Pinterest and her website.
APA Reference
Agathangelou, F. (2015, February 10). Communicating Effectively Is a Skill You Can Learn, HealthyPlace. Retrieved on 2023, December 1 from https://www.healthyplace.com/blogs/buildingselfesteem/2015/02/communicating-effectively-and-your-self-esteem
Author: Fay Agathangelou
I love your analysis of this aspect of Speech Communication which is a course I am offering this semester in school. Under the tutelage of my lecturer, I have come to know that the first rule to mastering speech communication is to actually engage in speech communication, that is to say, you learn to speak by speaking. Generally, speech communication is the process of trying to transfer the image in your mind perfectly to another person(s) while eliciting a desired effect (appropriate feedback). Speech communications gives pleasure, fosters interactions that breeds exposure, facilitates relationships, aids learning, make others see and understand your point of view. Listening which is an essential part of communication as you have mentioned is another benefit of speech communication. For public speaking, steps that will make for a great speech include
- Learn about the speaker (if you're writing for someone else).
- know what needs to be said
- know the audience
- sketch out a plan
- research the topic
- outline the speech
- draft the speech
- test the speech out loud
- prepare a clean script
While making a speech, stick to the topic and have it in mind that you are writing for the ear. Also, allude to relevant and recent events.
Benson Mabel
Caleb University
Leave a reply