How to Honor Someone Who Has Died by Suicide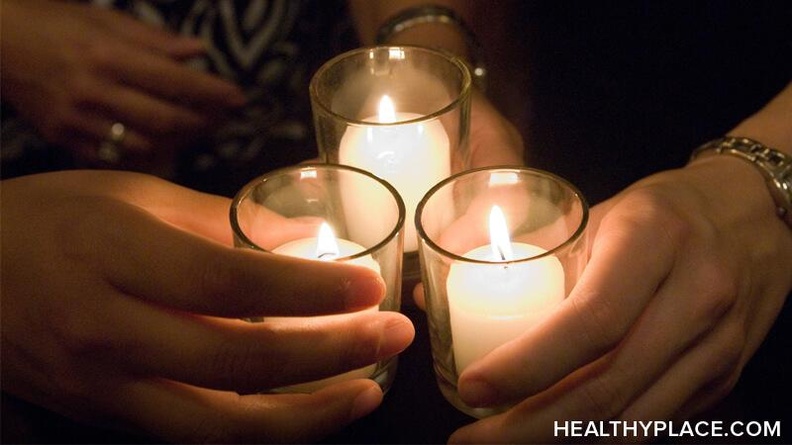 Trigger warning: This post contains a frank discussion of suicide.
How can we honor someone who has died by suicide? Since suicide is unfortunately common (it's the second leading cause of death in the US for people aged 15 to 341), it's likely we all know someone who has died by suicide. A death in that manner can be a sensitive topic. 
How to Honor Someone Who Died by Suicide
Share Positive Memories
Just like you would when you want to honor someone who has died in any other way, share positive memories of the person who died by suicide. Although that person may have struggled with mental illness (in fact, 90 percent of those who kill themselves have a diagnosable mental health condition1), some interactions you had were surely positive. 
Getting friends together to reminisce about good times, whether as part of a formal remembrance service or as an informal gathering, can be cathartic for those left behind. Sharing those positive memories can also help put that person's life in context by balancing all the negative thoughts and conversations around the way the person died. Repeating this get-together every year on the anniversary of the person's death can be a great way to continue to honor that person's memory.
Spread Suicide Awareness to Honor Someone
Another way to honor someone who has died by suicide is to spread awareness. Your loved one's death is no longer preventable, but someone else around you is likely struggling with a mental health condition as well. Take the opportunity to spread awareness about mental health and suicide. 
Make yourself a resource for others who might be contemplating suicide. The simple act of talking to you about suicidal ideation could make the difference between life and death for someone else. Some steps you can take to become a resource include doing your own research on suicide prevention, keeping contact information for suicide hotlines handy, and taking training for how to help someone who may be suicidal. 
You can make others aware of your commitment to suicide prevention by posting related content periodically on your social media or volunteering at a local suicide prevention organization. 
While the conversation regarding someone's death by suicide may be delicate, we can still honor that person by focusing on positive memories and sharing suicide awareness. 
If you feel that you may hurt yourself or someone else, call 9-1-1 immediately.

For more information on suicide, see our suicide information, resources and support section. For additional mental health help, please see our mental health hotline numbers and referral information section.
Sources
American Foundation for Suicide Prevention, Suicide Facts. Accessed September 13, 2019.
APA Reference
Meredith, M. (2019, September 15). How to Honor Someone Who Has Died by Suicide, HealthyPlace. Retrieved on 2023, December 1 from https://www.healthyplace.com/blogs/livingablissfullife/2019/9/how-to-honor-someone-who-has-died-by-suicide
Author: Morgan Meredith