Finding Safe People for Mental Illness Recovery
How does one go about finding safe people for mental illness recovery? Recently I wrote about developing a safe place for mental illness recovery. A safe place is enhanced by safe people, either real or fictional. Safe people are vital to recovery from trauma and in therapy. So here are three safe people one should find for mental illness recovery.
A Safe Person: Find the Protector in Mental Illness Recovery
The first safe person you should find is a protective figure. If you have someone like this in real life, you are fortunate; because, you not only have an advocate, but it's less work for you to find someone. The protector's role is self-explanatory. The protective figure helps you face the trauma while keeping you safe from its effects.
I did not have a protective figure growing up; my parents were emotionally abusive and everyone pretty much turned a blind eye to the abuse. I was all I had. This is the situation most trauma survivors find themselves in--they feel they are the only ones they can count on. But if that were the case, they believe, the trauma would not have happened. So they find themselves unable to rely on anyone.
The good news is you can create your own protector. My protective figure is one of my fictional characters, a private detective/vigilante named Carol Francois. The more detail you can put into your protective figure, the better. For example, Carol is the daughter of a race car driver and grew up in both Indianapolis and Monaco. She is a trauma survivor; her mother was murdered and she arrived just in time to see the murderer leave. As a result, she is fiercely loyal to and protective of her friends, seeing them as family. I derive strength from her, and this strength enables me to face my own traumatic experiences.
Remember, if it's stupid but it works, it isn't stupid.
A Safe Person: Find the Nurturer in Mental Illness Recovery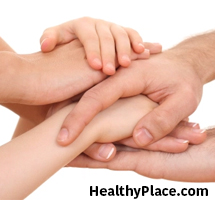 The second figure you find should be a nurturer, whose role is also self-explanatory. The nurturing figure meets your unmet needs of safety, security, and hope. Again, you're fortunate if this is a real-life person (such as your therapist or a spiritual leader), but if you don't have one, you can create one or borrow one. This is embarrassing to admit, but my nurturing figure is Carmen Sandiego from the animated show Where on Earth Is Carmen Sandiego?
Carmen is intelligent, strong, brave, and playful. She does not consider the pursuing detectives enemies, but intellectual equals playing a game. She steals for the challenge of stealing but is careful that no one gets hurt. She often engages in philosophical discussions that allow the players to realize more about themselves. This meets my needs of affirmation, intellectual challenge, and self-discovery.
As I said earlier, if it's stupid but it works, it isn't stupid.
A Safe Person: Find the Companion in Mental Illness Recovery
The third figure is probably the easiest to create--the companion. This can be a real person or an imaginary friend. I once heard a story of an abuse survivor who thought of her imaginary friend Mary as the Virgin Mary, which enabled her to face her trauma. Anything can work.
I have several companions based on real people and fictional characters that I take with me when I face my trauma: a psychologist who treated me when I lived in Texas, a lieutenant I met when I was in the Army, a fictional police detective, a fictional petty criminal with a Robin Hood streak, a fictional reporter. I talk to them just like I would if they were really there. It helps me feel like I'm not alone, which is the entire point of having a companion.
So those are three figures you should find for mental illness recovery. The stronger your safe place and safe people, the easier it is to face your trauma.
You can also find Becky Oberg on Google+, Facebook and Twitter and Linkedin.
APA Reference
Oberg, B. (2015, November 10). Finding Safe People for Mental Illness Recovery, HealthyPlace. Retrieved on 2023, December 8 from https://www.healthyplace.com/blogs/recoveringfrommentalillness/2015/11/developing-safe-people-for-mental-illness-recovery
Author: Becky Oberg