A Look at Pill Splitting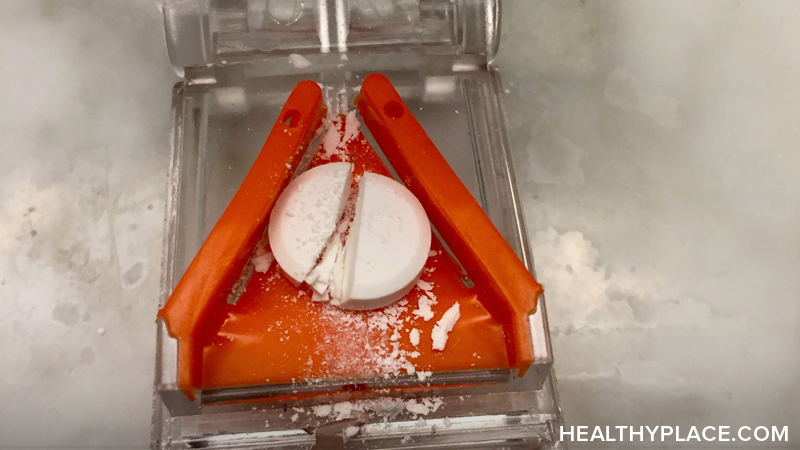 Should you cut your antidepressant in half to save money? A look at pill splitting, cutting larger-dose pills in half.
Should you split your antidepressant pill?
In the scramble to cut rising prices for prescription drugs, consumers and insurers are taking a new look at an old but controversial practice - splitting pills in half.
Purchasing large amounts of medications in high doses and cutting them in half saves money because bigger-dose pills of many drugs often sell for the same price or only slightly more than smaller doses.
Consumers can purchase 30 10-milligram doses of the antidepressant Paxil for $72.02 at Drugstore.com, for example. The site sells the same number of 20-milligram doses for $76.80. Cost-conscious customers can buy the larger-dose pills, split the pills in half and get twice as much medication for $4.78 more.
Pill splitting is not without risks. Because they may suffer from physical, mental or emotional problems, not all patients can correctly split their pills.
And not all pills should be split. Some must remain intact to be absorbed properly. Others can't be split accurately because of their shape. Even tablets with scores - those small grooves down the center - don't always split evenly, which could result in over- and under-dosing.
But with prescription-drug spending projected to jump 13.5 percent this year to $161 billion, health-care plans are warming to pill splitting as a low-tech method to curb rising drug costs.
The Veterans Affairs Department allows pill splitting for its patients. Last week, the Illinois Medicaid program began requiring patients who take the antidepressant to purchase higher-potency pills and split them in half. Since 100-milligram tablets cost about the same as the 50-milligram pills - $2.79 vs. $2.73 - the state will reimburse pharmacies only for the higher dose.
The move will trim about $3 million off Illinois' projected $1.4 billion Medicaid drug budget, said program spokeswoman Ellen Feldhausen. Private insurers such as Kaiser Permanente, United Healthcare, Health Net and Wellpoint Health Network also have voluntary policies allowing doctors to permit pill splitting if patients approve.
"I think it's inevitable that health plans will take a closer look at this. When they do so will vary and be determined by their own needs," said Dr. Randall Stafford, a professor of medicine at Stanford University who recently studied the cost-saving potential of pill splitting.
The savings must be balanced against the risks of improper dosage. A recent study of 11 commonly split tablets found that eight, after splitting, did not meet industry guidelines for content uniformity - between 85 percent and 115 percent of the intended dose. Even scored tablets did not assure accurate dosages.
For these reasons, groups such as the American Medical Association, the American Pharmaceutical Association and the American Society of Consultant Pharmacists have opposed mandatory pill-splitting policies by health plans.
But if the doctor, patient, and pharmacist all agree that pill splitting is workable, the practice can be safe on a voluntary basis, said Susan Winckler, vice president for policy with the pharmaceutical association in Washington.
Stafford's research, which tracked prescription records on 11 drugs, found that a Massachusetts HMO with 19,000 members could have saved nearly $260,000 a year by having its clients regularly split pills. Savings ranged from 23 percent to 50 percent, depending on the medication, Stafford said.
Tom Clark, director of professional affairs for the American Society of Consultant Pharmacists, said Stafford's study overstated the cost savings and understated the risks. He said there had been no studies on the health of patients who split pills.
"Our position is that it's irresponsible to promote this practice without any studies to show it's safe," Clark said.
For years, many people have split their regular-dosage tablets with razors, knives and pill-splitting devices to stretch their prescriptions when they couldn't afford refills. Groups such as the AARP frown on the practice, because patients don't get the proper dosages.
Kaiser Permanente, an Oakland, Calif.-based HMO, has been the industry leader in splitting higher-dose pills since it adopted the practice on a patient-voluntary basis in the early `90s. In 1, Kaiser was sued over the practice; several patients and a Kaiser physician claimed that patients were being forced to split pills. Kaiser denies the allegation. The lawsuit is expected to go to trial next year.
Dr. Charles Phillips, an emergency-care physician in Fresno, Calif., and a former Kaiser physician, is a plaintiff in the lawsuit. While working for Kaiser, Phillips said, he frequently saw patients with diabetes and hypertension whose health was harmed by inaccurately split medications. He still opposes the practice because of the potential for error.
"It's bad medicine," Phillips said. "It saves money at that moment in time, but if the patient gets worse (because of improperly split dosages) then society is losing money, because they've got to pay for the patient's care down the line."
Kaiser officials, who have continued the practice of pill splitting, said the Stanford study validated it.
"It confirms our view, which is that a well-designed tablet-splitting initiative has the potential to improve the cost-effectiveness of care without impairing quality," said Tony Barrueta, senior counsel for Kaiser.
Warning: Do not make any changes in your medications or the way you take your medications without first talking it over with your doctor.
Source: Reuters Health - Sept. 29, 2002
APA Reference
Gluck, S. (2022, January 4). A Look at Pill Splitting, HealthyPlace. Retrieved on 2023, September 28 from https://www.healthyplace.com/depression/antidepressants/look-at-pill-splitting
Last Updated: January 11, 2022