Postpartum Depression in Men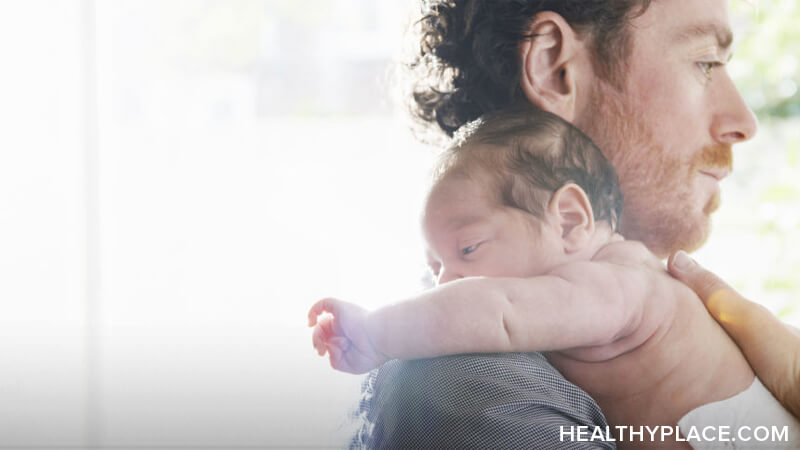 Postpartum depression is a subtype of the mental illness major depressive disorder. And while postpartum depression is only officially recognized in women, new research suggests many men get depressed after the birth of their child as well. The highest rates of postpartum depression in men are between 3 – 6 months after birth.1
One study of 5000 members of two-parent households indicated about 10% of fathers experienced moderate-to-severe postpartum depression, compared to 4.8% of men in the general population. This compared to 14% of postpartum women, according to the same study from Eastern Virginia Medical School Center for Pediatric Research.
Researchers hope more doctors will take the time to screen both women and men for postpartum depression during well-child visits after the child is born.
Symptoms of Postpartum Depression in Men
Rather than the physical or hormonal changes that contribute to postpartum depression in women, men and postpartum depression seem to be related through changing family dynamics. The family dynamics are usually going through upheaval after the birth of a child, sometimes making the man feel isolated or extraneous. New mothers may wish to control every aspect of the new baby's life, making the man feel disempowered (see Postpartum Depression and Anxiety: Symptoms, Causes, Treatments). On top of which, men may take personally the mother's lack of sex drive even though this is normal postpartum.
In addition to standard major depressive disorder symptoms, men with postpartum depression tend to:2
Work longer hours
Watch more sports
Drink more
Be alone more
The Effect of Postpartum Depression in Men
It is well known postpartum depression in women affects mother-infant bonding which, in turn, harms childhood development overall.3 Postpartum depression in men also exerts harmful effects on the household and child. Depressed fathers tend to act more negatively towards their children. Compared to non-depressed fathers, men with postpartum depression were found to: 4
Be almost four times more likely to spank their child
Be less than half as likely to spend time reading to their child
The American Academy of Pediatrics opposes striking a child for any reason. Spanking a child can lead to agitation and increased aggression in both preschool and school children.
APA Reference
Tracy, N. (2022, January 3). Postpartum Depression in Men, HealthyPlace. Retrieved on 2023, December 9 from https://www.healthyplace.com/depression/postpartum-depression/postpartum-depression-in-men
Last Updated: January 9, 2022