Hoarding Treatment: Help for Hoarding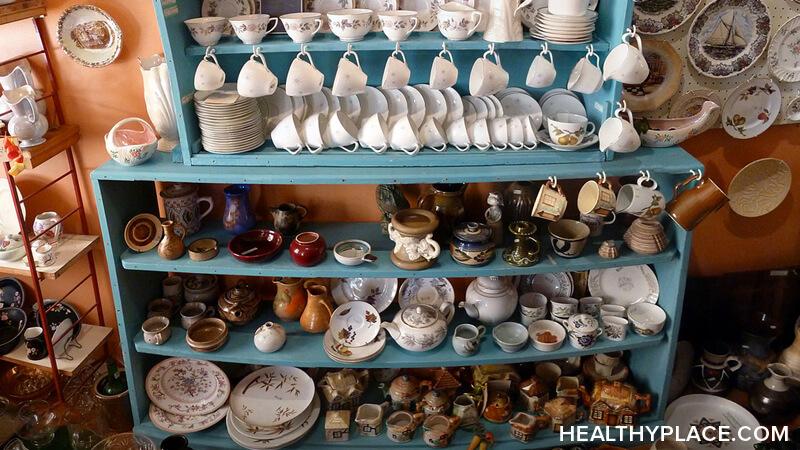 Although effective hoarding treatment is available, treatment often has mixed results. For one, people with hoarding disorder (compulsive hoarding) may not want help for hoarding because many of them don't have insight into the excessive nature of their behaviors. The majority of hoarders won't seek help on their own, leaving it up to others to care enough to intervene on their behalf. For those who need hoarding help, it's important to find a mental health professional or therapist with experience in hoarding treatment.
Effective Help for Hoarding
Finding effective help for hoarding may prove difficult. The medications and psychotherapies proven to effectively treat obsessive-compulsive disorder don't seem to work as well in treating hoarders.
Mental health experts have developed a unique type of cognitive behavior therapy (CBT) for hoarding treatment. It involves 26 weekly sessions with some of those carried out in the patient's home. This special form of CBT uses the following strategies in combination:
Motivational interviewing (to elevate their motivation to get better)
Skills training (i.e. organization)
This special form of CBT focuses on the following hoarding symptoms and behaviors:
Excessive acquisition and saving
Extreme difficulty throwing items out
Clutter and disorganization that impairs daily life
Scientists continue to research effective medications for treating hoarding disorder. The most commonly used medicines in treating the condition are known as selective serotonin reuptake inhibitors (SSRIs) like paroxetine (Paxil®). Unfortunately, patient response to this and other SSRIs isn't as positive as when doctors use them to treat OCD.
Help for Hoarding in Group Therapy
Group therapy sessions provide help for hoarding and the problems associated with it, such as isolation and shame. Group hoarding treatment allows the patient an opportunity to hear others' experiences and share their own. These sessions can motivate as well as inspire hope for a better life. A licensed therapist or another mental health professional may lead these group sessions or they may take the form of self-help groups led by peers or experienced coaches.
Finding Effective Hoarding Help
Since people suffering from the disorder rarely take the initiative to find hoarding help, it's often up to those who care about them to take the first step. First, whether you are a hoarder or love someone who is, educate yourself about this mental illness. 
Although there are relatively few therapists and other mental health professionals with experience and training in treating hoarding, the International OCD Foundation has a Treatment Provider Database where you can look for a therapist in your area. Alternatively, you can also talk to your primary care physician and ask if he or she knows of a therapist with experience in treating the disorder or call your county psychological association or county medical society and ask for a referral.
APA Reference
Gluck, S. (2022, January 10). Hoarding Treatment: Help for Hoarding, HealthyPlace. Retrieved on 2023, December 8 from https://www.healthyplace.com/ocd-related-disorders/hoarding-disorder/hoarding-treatment-help-for-hoarding
Last Updated: January 15, 2022