What Is Play Therapy? Definition, Types, and Benefits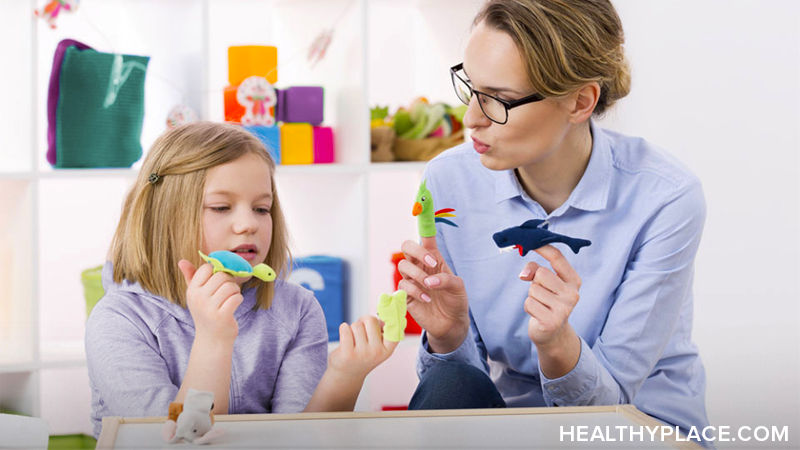 Play therapy is a way of working with kids that meets them where they are. Because of their age and developmental stage, kids are limited in their ability to use words to express their thoughts, feelings, and both internal and external struggles. In play therapy, kids can use their natural language—play—to communicate with the therapist and work through issues.
Play therapy is designed primarily for children three to 16 years old. Play therapists do occasionally work with older teens and adults, however. This type of counseling for kids works with individual children as well as groups of children with similar issues. Also, it works equally well with boys and girls.
What, exactly, is this child-centered approach to therapy? Let's explore it further, including the definition of play therapy, benefits, types, and more.
What is Play Therapy? Play Therapy Definition and Types
Play therapy for children is a counseling approach that uses an array of toys, games, art materials, sand trays, and other items that kids use to communicate. The Association for Play Therapy further states that it's a systematic therapy provided by trained play therapists that prevents and resolves problems to help children grow and develop optimally. Simply put, play therapy is counseling that uses the power play to work with kids as they heal and grow.
Therapists use one of two general types of play therapy, depending on the theory that shapes their approach to healing, the personality of the child, or the particular struggle the child is dealing with. Play therapy types can be
Directive, in which the therapist guides kids in the process of play, often seeking to teach a skill or behavior.
Non-directive, which has the child take the lead while the therapist listens, watches, asks occasional questions or makes comments
If you are contemplating play therapy for your child, asking a therapist if they are directive or non-directive and why might be useful as you decide what is right for your child. Both types of play therapy have their place, and both offer benefits.
Benefits of Play Therapy
Play therapy lets kids do what comes naturally: play. The environment is structured yet relaxed, giving kids a safe place to be themselves. Building from this solid foundation, play therapy has numerous additional benefits. It:
Is responsive to children's needs
Helps kids develop insight into their experiences and themselves
Fosters problem-solving and coping skills
Facilitates trust and connection with the therapist, even for children who don't trust adults
Provides a safe and acceptable way to act out anxiety or hostility
Allows children to test limits and learn about consequences
Teaches social skills
Promotes healthy development: cognitive, language, emotional, behavioral
Play therapy is used with kids who have diagnosed emotional and behavioral disorders as well as for those experiencing various difficulties that aren't disorders. Issues of behavior, emotions, and thoughts can all be helped by play therapy, including its themes.
What are Play Therapy Themes?
Play therapy themes are the meanings involved in therapy. Play therapy for children, while fun and games, isn't all fun and games. It's done with intention, for a purpose: discovery and resolution of difficulties. Two general types of themes help this happen: themes for the toys, and themes emerging from play.
Play therapy toys are chosen intentionally. They encourage communication and growth. Most play therapists have toys that fit into the following categories (note that these typically aren't divided into categories in an office but are organized so kids can choose freely):
Power and aggression
Family relationships and nurturance
Control and safety
Exploration and mastery
Interaction
Sexualized play
The themes that emerge from a child's play are numerous and varied. These themes are the result of the way a child communicates during therapy. Play therapists look for patterns in the play that help them understand the child. Then, the therapist uses these patterns and themes to help children process and understand their own experiences.
How Does Play Therapy Work?
Play therapy is a specific helping approach. To be a play therapist, someone must have an advanced degree in counseling or psychology as well as a special certification in play therapy. A therapist adheres to a play therapy theory that serves as a framework for how they see children and their problems as well as the most effective way to help them resolve those problems. Cognitive behavior play therapy is just one of many examples.
This child-centered helping approach works through different types of play therapy techniques and activities. Toys, games, puppets, storytelling, art, and various other objects are available for kids. In the play therapy room, their play has a positive purpose: to overcome cognitive, emotional, and behavior problems and thrive.
APA Reference
Peterson, T. (2022, January 11). What Is Play Therapy? Definition, Types, and Benefits, HealthyPlace. Retrieved on 2023, October 4 from https://www.healthyplace.com/parenting/child-therapy/what-is-play-therapy-definition-types-and-benefits
Last Updated: January 17, 2022