Eliminate Making Excuses and Build Self-Esteem
We all do it. It's this maddening belief that if we avoid or make an excuse for something, it will magically disappear or take care of itself. Wrong! This short Building Self-Esteem video will teach you how to avoid avoiding, eliminate the pattern of making excuses, and begin to take control over these ideas that keep you from building self-esteem and self-confidence.
Stop Making Excuses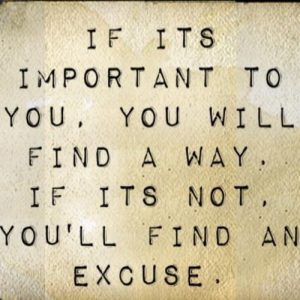 Doing the same thing over and over again, and expecting different results, as we know is insane. Making excuses for our actions can be anxiety producing and ineffective. Instead, try to do something a little different today to help increase self-esteem.
How to Stop Making Excuses
Are making excuses helping you? I mean, really, ask yourself this.
Brainstorm ideas to stop making excuses: journal or write about what is keeping you from achieving your goals or stuck in an ineffective pattern. What's the worst that could happen? What is the best that could happen? What is one small step I can take today?
Validate that these excuses are a form of self-protection and need to adjusted gently.
Take action, small steps to stop the excuse from taking over your life today.
Good Luck!
Video on Why We Make Excuses and How to Stop
Emily is the author of Express Yourself: A Teen Girls Guide to Speaking Up and Being Who You Are.You can visit Emily's Guidance Girl website. You can also find her on Facebook, Google+ and Twitter.
APA Reference
Roberts, E. (2013, August 14). Eliminate Making Excuses and Build Self-Esteem, HealthyPlace. Retrieved on 2023, December 7 from https://www.healthyplace.com/blogs/buildingselfesteem/2013/08/eliminate-excuses-and-build-self-esteem
Author: Emily Roberts MA, LPC
Thanks for sharing with us. a lot of effort has been made to do something a little different day by day.
Thanks. Meaning we are supposed to stop making excuses and i also watched and listened to the video.
Leave a reply