Famous Quotes to Boost Self-Esteem and Confidence
These famous inspirational quotes from your favorite authors and celebrities certainly will boost your confidence and self-esteem. Inspirational messages and quotes brighten my day and change my outlook on life. They are even more powerful when you admire the author. These famous quotes, by well known males and females, can really help you to build your self-esteem and confidence. Read through them and see which ones resonate with you. Write them down, commit them to memory and look them on your journey to build self-esteem and confidence.
13 Famous Quotes to Build Self-Esteem and Confidence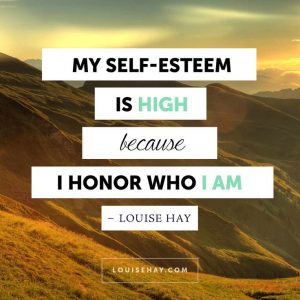 These 13 inspirational quotes come from celebrities and authors. There is surely one to inspire you to think in a new way and help you build your self-esteem.
"I learned that my sadness never destroyed what was great about me. You just have to go back to that greatness, find that one little light that's left. I'm lucky I found one little glimmer stored away." - Lady Gaga
"You have been criticizing yourself for years, and it hasn't worked. Try approving of yourself and see what happens."- Louise L. Hay
"Let your light shine. Shine within you so that it can shine on someone else. Let your light shine. "- Oprah
"I've learned it's Important not to limit yourself. You can do whatever you really love to do, no matter what it is." - Ryan Gosling
"Smile and let everyone know that today, you're a lot stronger than you were yesterday."- Drake
"You either walk inside your story and own it or you stand outside your story and hustle for your worthiness." - Brene Brown
"Unique and different is the new generation of beautiful . . . You don't have to be like everybody else. In fact I don't think you should."- Taylor Swift
"You must find the place inside yourself where nothing is impossible."- Deepak Chopra
"I've often felt unattractive or different looking. As I've grown up, I've felt more comfortable in my own skin. It may sound cliche, but when you feel beautiful and strong on the inside, it shows on the outside. - Angelina Jolie
"You cannot be lonely if you like the person you're alone with." - Wayne Dyer

"You're always with yourself, so you might as well enjoy the company."- Diane Von Furstenberg
"Love yourself first and everything else falls into line. You really have to love yourself to get anything done in this world."- Lucille Ball
"I've learned that you have to stay true to yourself. From all these amazing people that I've had the opportunity to work with thus far, you have to stay true to yourself and don't be afraid. Even though people might say that what you're doing isn't cool or isn't right. I promise you, you will not regret it if you stay true to who you are and what you love to do because there is no other reason I am up here today." - Emma Stone
Which ones resonate with you? Send me your favorite inspirational, famous quotes and share them with others who are trying to boost their self-esteem and confidence.
Emily is the author of Express Yourself: A Teen Girls Guide to Speaking Up and Being Who You Are.You can visit Emily's Guidance Girl website. You can also find her on Facebook, Google+ and Twitter.
APA Reference
Roberts, E. (2015, April 17). Famous Quotes to Boost Self-Esteem and Confidence, HealthyPlace. Retrieved on 2023, December 2 from https://www.healthyplace.com/blogs/buildingselfesteem/2015/04/famous-quotes-for-building-self-esteem-and-confidence
Author: Emily Roberts MA, LPC
I VE learned that you have to stay true to yourself
. i ve begun loving myself, just the way I am. God made me that way, I love me for who Iam, for what God made of myself.
Leave a reply