This Just In: Being Diagnosed With Mental Illness At Any Age
Things are changing in the world of mental health. This blog will focus on one of these changes: The average age of diagnosis. Yes, this might seem like a boring topic but I'll work to make it interesting because it's important.
Bob Dylan said it best: The Times They Are a-Changin'. . .
What is an Average Age of Diagnosis?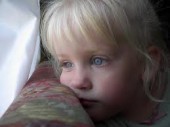 In the realm of mental illness, particularly serious and chronic mental illness, an average age of diagnosis was once based on statistics. To clarify this: Most people were statistically diagnosed with mental illness in their late teens and early to mid-twenties.
People presented themselves as exhibiting symptoms of mental illness at the approximate age of 18-25 years old. They may have lived with symptoms of mental illness before this age but during these years they often experienced a major episode which led to the diagnosis.
Although this age range is still the most common, the most diagnosed, it is no longer strange for a child to be diagnosed nor a person past the age of fifty. A person at any stage in their life.
Children Diagnosed With Mental Illness
I was twelve when I was diagnosed with bipolar disorder. This was extremely rare at the time. I was mentally poked and prodded for years prior.
Things are different now. People--particularly those in the field of mental health--understand that children can and do live with mental illness.
This knowledge and the connected research has allowed children to be diagnosed and find recovery earlier in life.
Adults Diagnosed With Mental Illness
You don't have to be in your twenties to be diagnosed with a mental illness anymore. Someone very close to me had a psychotic break recently--this person is approaching forty-years old. This person has struggled with the highs and the lows that define bipolar disorder for decades. She tried to seek help for a very long time but was told that she was stressed out, having a tough time at work and was managing stress wrong.
Years were wasted--years in which she could have become well--but she is on her way to recovery now and so are many other people who have lived with mental illness without diagnosis.
Age is Just a Number When Connected to Mental Illness
I exhibited symptoms of mental illness since I was very young--a toddler trying to make sense of putting one foot in front of the other. A toddler who, as my parents have told me, never stopped screaming. Never stopped moving.
A person who has grandchildren (for lack of a more creative example) can also live with an undiagnosed mental illness. This same person can also recover. A child can receive a diagnosis and lead a life that will not be as frightening as mine was.
Mental illness has no eyes for race, gender or occupation. It is also not defined by a number. Mental illness affects people young and people old. And all of them, of us, have a chance of recovery if a diagnosis is made.
It's never too early or too late to seek help.
APA Reference
Jeanne, N. (2013, February 11). This Just In: Being Diagnosed With Mental Illness At Any Age, HealthyPlace. Retrieved on 2023, June 5 from https://www.healthyplace.com/blogs/recoveringfrommentalillness/2013/02/this-just-in-being-diagnosed-with-mental-illness-at-any-age
Author: Natalie Jeanne Champagne
Insightful entry. It brings a couple of thoughts to mind:
I hope, as you say, that age isn't a consideration in diagnosis--or for that matter, seeking help--these days. I was diagnosed with anxiety and depression in my fifties. I'd sought help from my early 40's and wish I'd been diagnosed earlier. In any event, I'm so glad I finally got the help I need. It's never to late to get a new lease on life!
Also, it's good that the stigma around mental illness is diminishing and that an awareness of issues in previous generations of your family helped you understand your own situation. There was a stigma and much denial in my family. My parents never sought help, despite their many problems and horrible moments, but through my therapy I learned that my mother was very likely bipolar and my father very likely narcissistic. Alcoholism and abuse are prevalent in both parents' family histories, though nobody in past generations sought help, as far as I know. One uncle committed suicide.
Acknowledging mental illness helps not only the person suffering at the time, but can help succeeding generations be more aware of it and willing to get help should the need arise. You're much younger than I am, and the difference between your experience and mine is cause for hope.
Well I was hospitslized& certified when I was 14.However I had anxiety sympton from the time I was 5 years old that went on without being undiagnosed,unnoticed and unchecked until my last 6 mos. in hosptial at age 16 simply because they knew very little about bi-polar,schizophrenia,OCD,manic depressive illness GAD & any anxiety symptoms related to these disorders.
Leave a reply