Stigma, Mental Illness and Treatment Center Locations
Just like there is stigma around mental illness, there is also stigma when it comes to mental illness treatment center locations. Several years ago, an Indianapolis hospital closed, leaving a large vacant building. A drug and alcohol treatment center wanted to move into the abandoned hospital. The problem--said building was a few blocks away from the Indianapolis Children's Museum. During the public hearings on the proposal, the Children's Museum vigorously denounced the idea, citing concern for the children. The building remains empty. Was the outcry necessary or was it an example of mental illness treatment center location stigma?
The Stigma Around Mental Illness Treatment Center Locations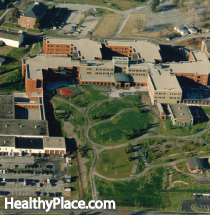 The reaction of the Children's Museum was based entirely on the stigma of mental illness and addiction. There would not be an outcry if it had been a hospice for cancer patients or HIV/AIDS patients. Sadly, this reaction is not uncommon. The "not in my backyard" mentality often pops up whenever a mental illness treatment center, such as a group home, wants to open in a neighborhood. This often results in treatment centers being located in bad neighborhoods and undesirable properties.
Did the Children's Museum do the right thing? Or were they perpetuating mental illness treatment center location stigma?
https://www.youtube.com/watch?v=3miBpfIKmpQ&feature=youtu.be
You can also find Becky Oberg on Google+, Facebook and Twitter and Linkedin.
APA Reference
Oberg, B. (2015, April 23). Stigma, Mental Illness and Treatment Center Locations, HealthyPlace. Retrieved on 2023, June 3 from https://www.healthyplace.com/blogs/recoveringfrommentalillness/2015/04/stigma-mental-illness-and-treatment-center-locations-not-in-my-backyard
Author: Becky Oberg
People a scared by what they don't know, education is the key. I feel that the museum was wrong with the comments
Leave a reply