Stop Speculating on President Donald Trump's Mental Health
Ever since his election many people, including some mental health professionals, have been speculating on President Donald Trump's mental health. This is unethical and dangerous. President Trump may or may not have a mental illness, but going public about it should be his decision. And his diagnosis, if any, should be between him and his doctor. Speculating on his mental health reinforces mental health stigma and keeps people from seeking help (Are You Afraid to Ask for Mental Health Help?). It's time to stop speculating on President Donald Trump's mental health.
Speculation on President Trump's Mental Health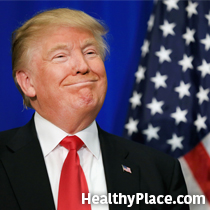 How do you feel when you hear someone say President Trump is mentally ill? Now imagine that you have a mental illness and you're watching someone get dragged across the coals of stigma (Stigma and Discrimination: The Effect of Stigma). Does it make you want to seek help? Does it make you afraid your doctor will talk about your mental health to others? This is why it needs to stop. Diagnosing President Trump just reinforces stigma by attaching a very real physical condition to a polarizing figure, and people will avoid seeking treatment out of fear their mental illness will become public knowledge.
Even personality disorders are treatable--I'm in recovery from borderline personality disorder. Mental illness is very treatable. Most mental health professionals do respect confidentiality. But when there are those that don't and they throw the label around casually, it does a disservice to us all.
Stigma and Diagnosing President Trump with a Mental Illness
You can also find Becky Oberg on Google+, Facebook and Twitter and Linkedin.
APA Reference
Oberg, B. (2017, January 31). Stop Speculating on President Donald Trump's Mental Health, HealthyPlace. Retrieved on 2019, October 19 from https://www.healthyplace.com/blogs/recoveringfrommentalillness/2017/01/stop-speculating-on-president-donald-trumps-mental-health
Author: Becky Oberg