Hospitalization Myths Preventing Mental Illness Treatment
There are three myths about hospitalization that keep people from seeking mental illness treatment when they need it most (Facts About Psychiatric Hospitalization). When I first started having symptoms, I believed all three myths. They kept me from seeking psychiatric treatment for about two years. Ironically, if I'd sought treatment when I first started having symptoms, I might have avoided the first hospitalization. Here are the three myths about hospitalization that keep people from seeking mental illness treatment.
Hospitalization Myth #1: It Is a Punishment for Being Suicidal
I grew up in a conservative Christian environment, and to say our beliefs about mental illness were antiquated is putting it mildly. In that time and setting, mental illness was something to be ashamed of, like sexual misconduct or pathological lying. And if your child had mental illness you sent them away to a behavior modification program.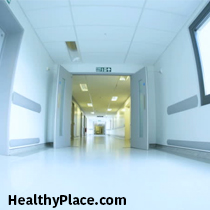 So I sought help from books, one of which said hearing voices was demonic oppression and recommended repentance.
This fear continued into college when I became suicidal. When the university found out about my mental health disorder, I was suspended from class and evicted from the dorms pending an assessment--in which the whole thing was made out to be my fault. I was told I'd "created a disruption" and that I should consider going home. When the university recommended hospitalization, I was vehemently against the idea until a psychologist told me it wasn't my fault and that hospitalization was not a punishment for being suicidal.
While my first hospitalization was a tough experience that probably could have been avoided had I sought help earlier, it did help. Once I had a diagnosis, I got an understanding of what was happening to me. Once I learned the situation was not my fault, I was able to ask for and receive help---real help, not more "just pray harder". The medications helped and I was able to return to class and still finish the semester with a B average. In an ideal world, hospitalization is designed to save lives, not penalize.
Hospitalization Myth #2: Psychiatric Hospitals Are Violent Places
I've been hospitalized many times, and rarely have things become violent, even in the most intensive care settings. Most patients that do become violent become violent toward themselves because of their illness. Only once in nearly 20 years of treatment have I ever been injured by another person while in an inpatient psychiatric facility. It's a myth that people with mental illness are more violent than the general population.
It's also a myth that the staff are violent. Under the law, they are required to use the least restrictive means to keep the patients safe. Have I seen people restrained? Yes, but only when they're starting to become violent and there's absolutely no other way to protect either the individual or the other patients. Have I seen restraint abused? Yes, but I had plenty of recourse and the State of Indiana took it very seriously and acted quickly (When Convenience Trumps Treatment: The Abuse of Psychiatric Restraints).
Hospitalization Myth #3: Mental Hospitals Are Prisons
The antipsychiatry movement loves to say this. There's a big difference between psychiatric hospitals and jails or prisons--most people in psychiatric hospitals have a choice as to whether or not to be there. What they do not have a choice in is their mental illness. People in jails or prisons have no choice but to be there, and most of them have chosen to commit a crime (obviously this may not be the case with a prisoner with mental illness). One place is for mental illness treatment, the other for rehabilitation.
Yes, both are designed with security in mind. Yes, there is such a thing as involuntary treatment, but that's the exception and not the rule. Ultimately, in a psychiatric hospital, you are the person in charge of your treatment. That's not the case in a correctional facility.
So those are three myths about hospitalization that keep people from seeking mental illness treatment. What myths have you heard?
You can also find Becky Oberg on Google+, Facebook and Twitter and Linkedin.
APA Reference
Oberg, B. (2017, January 30). Hospitalization Myths Preventing Mental Illness Treatment, HealthyPlace. Retrieved on 2019, October 16 from https://www.healthyplace.com/blogs/recoveringfrommentalillness/2017/01/three-myths-about-hospitalization-that-keep-people-from-seeking-treatment
Author: Becky Oberg