How the 'I Weigh' Movement Inspired Me in ED Recovery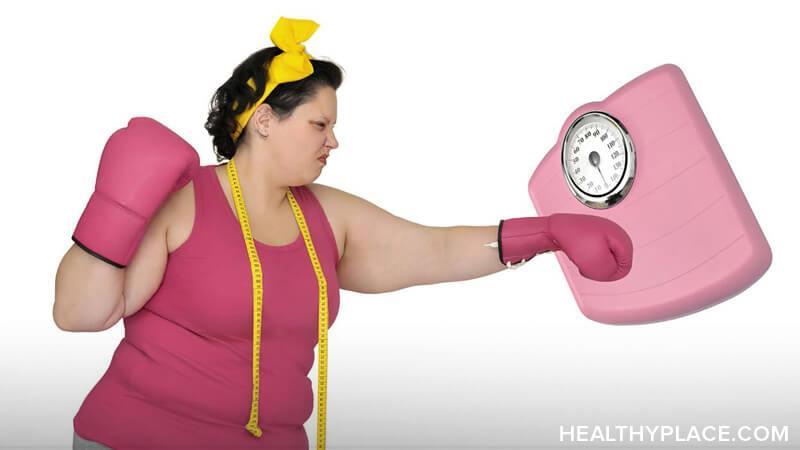 When I first stumbled upon actress and activist Jameela Jamil's "I Weigh" social media account two years ago, I breathed an audible sigh of relief. Here was a celebrity using her enormous platform to raise awareness to the overlooked truth that humans are worth more than the size and shape of their bodies.
Instead of the harmful but familiar societal narrative which measures beauty in pounds, I took comfort in Jamil's invitation to find it elsewhere—through passions, talents, achievements, relationships, character traits, and personality quirks. In fact, this online "I Weigh" movement has inspired me to renounce diet culture in favor of radical self-acceptance.  
The 'I Weigh' Movement Is an Important Alternative to Diet Culture  
The term "diet culture" refers to an indoctrinated belief system that thinness equals health, privilege, status, and value. Because this social norm is so prevalent and mainstream, untold numbers of people consume the message as fact. This, in turn, can lead them to weight manipulation in order to embody the so-called thin ideal.
I was a believer in diet culture—and had been for almost a lifetime—when the "I Weigh" movement crossed my Instagram feed. I knew Jameela Jamil from her TV series The Good Place, which I obsessively binged on Netflix, so I was fascinated to learn that she stood for positive body image and inclusion too. I began to peruse her social media account for more information on "I Weigh," and this search led me to a photo that Jamil had taken of her own reflection in the mirror.
The caption read: 
"I weigh: Lovely relationship. Great friends. I laugh every day. I love my job. I make an honest living. I'm financially independent. I speak out for women's rights. I like my bingo wings. I like myself in spite of everything I've been taught to hate about myself." 
She then signed off with a call-to-action for her followers to express their weight in unique attributes, not arbitrary pounds on a scale.
I had to research what she meant by "bingo wings" (loose skin on the upper arms), but I loved Jamil's post—and many others did too. This idea went viral back in 2018, and now the "I Weigh" revolution is more than one million-strong. It's basic and simple, yet so countercultural because it allows both women and men to embrace themselves as multi-faceted humans. It reminds people to look beyond appearance when examining their worth. It celebrates all the various shapes, colors, abilities, genders, and orientations that bodies come in. This "I Weigh" movement inspired me to renounce diet culture, and I am immensely grateful to have found it.           
Here Is What 'I Weigh' in Terms of Self-Worth and Acceptance
Because the "I Weigh" movement has been so instrumental in helping me renounce diet culture, I want to take Jameela Jamil's advice and create my own "I Weigh" statements. I also encourage others, who are in the process of dismantling their diet culture beliefs, to do the same. It's a cathartic exercise, in my opinion.
"I weigh my tenacious commitment to eating disorder recovery. I weigh the deep and authentic relationships I have with my husband, friends, and family. I weigh the fierce passion I exude for human equality and justice. I weigh my adventurous spirit and love for the outdoors. I weigh my skills as a writer and creative. I weigh the empathy I feel toward those who are in desperate need of hope. I weigh my resilience and ability to persevere. I weigh the Broadway show tunes I dance around the kitchen to. I weigh the smiles that crease my eyes and pull at my cheeks. I weigh all the times I have chosen a path that was hard and painful but true, brave, and right."
How would you write your "I Weigh" statement? Share it in the comments.
APA Reference
Schurrer, M. (2020, July 8). How the 'I Weigh' Movement Inspired Me in ED Recovery, HealthyPlace. Retrieved on 2023, February 6 from https://www.healthyplace.com/blogs/survivinged/2020/7/how-the-i-weigh-movement-inspired-me-in-ed-recovery
Author: Mary-Elizabeth Schurrer