Maintaining Confidence and Control Amongst Chaos
Life transitions can wreak havoc on your confidence level and sense of self. Breakups, breakdowns, job changes, moves, friendship woes, an illness, or simply a change in routine, can be beyond stressful for many of us, and be a catalyst for bringing you down. Often, in these chaotic times, what matters most is how you take on the event and what you do to stay true to yourself.
Maintaining Control During Stressful Times
It is not easy to maintain control during stressful, chaotic times in our lives. I have a friend who is going through a move, a relationship loss, a career change, and minor illness all at once! Although this would be the perfect time for her self-esteem to take a nosedive, she has managed to stay pretty sane through it all. She accepted that this time in her life was not pretty. So, she enlisted a group of friends to help her with the sadness. She also reached out to a mentor to help her with the job transition.
Although these stressors could have taken her down, she has tried her best to maintain some control over the chaotic life changes that are occurring. She told me that she remembers this quote when she's trying to stay sane:
"When one door closes, another one opens, or at least a window."
That got me thinking, how do we get through these difficult life challenges without depleting our confidence?
How to Maintain Control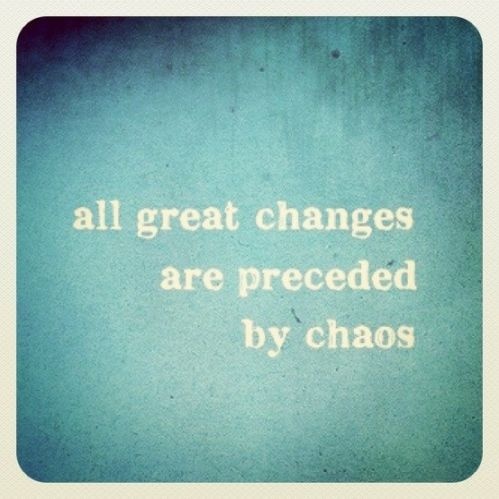 Although some of these things come out of the blue or can be so traumatic that our confidence in ourselves and the world can certainly take a hit, there are ways to maintain control amongst the chaos. Focusing on all that is going "wrong" will not help; rather it will send your view of the crisis into a tailspin and leave you emotionally exhausted and your self-esteem depleted. Try these tips instead.
Connect with others. If it wasn't for some of my friends and family who supported me, there is no way I would be able to stay confident during and after crisis situations. There were also friends in groups I was involved in who helped me in ways I couldn't have imagined. These people will remind you of how strong you are and support you.
Be open to help. Sometimes others can't read your mind and don't know what you are going through. You have to ask for assistance. If there is something interpersonal going on (break-up, illness, stress at home), you have to be willing to ask for some help. Tell your boss or a coworker that this is a difficult time for you. They will likely understand and help you through it or give you time to do so. Tell a friend or family member. They may have some insight or can help with finding you resources to make the transition easier. If you don't ask, you can't receive.
Stay mindful, don't future trip. Stay in the moment, as this is the only thing you can control. If you are sad, don't go into the land of "what if's" AKA future tripping. It won't serve you well. Focus on what you are doing in this moment, even if it is just for a minute.
ACCEPTS. This is a Dialectical Behavior Therapy (DBT) skill that I have found to be useful for temporarily tolerating painful, stressful events and emotions. The idea is when you can't make things better right away, you can distract temporarily yourself so it doesn't overwhelm your entire system and sense of self.
A

ctivities. Do something. Call, email, visit a friend, go for a run, clean an area of your home, or cook something.
C

ontributing. Go do something nice for someone. Check in with a relative you haven't talked to in a while. Ask a neighbor or roommate if they need help. Give back to an organization you are passionate about helping (think about if you are moving, taking things to Goodwill).
C

omparisons. Compare yourself to a time when you felt different. Did you get through a stressful time in your life before and come out okay? Was there a time in your life where things seemed worse than they do now?
E

motions. Create different emotions. Watch a funny or scary movie or TV show. Look up clips on YouTube that make you laugh. Listen to music. Call a friend who lifts you up.
P

ushing Away. Push the painful situation out of your mind temporarily. Leave the situation mentally; build an imaginary wall between you and the situation.
T

houghts. Replace your thoughts. Read an engrossing book. Go on Pinterest and make a new inspiration board. Do word puzzles or Sudoku. Play a game in your mind. Anything to just get out of your head.
S

ensations. Identify other sensations. Take a shower and be mindful of the smells, feelings, and textures. Squeeze a stress ball. Do sprints or jumping jacks. Notice how your body feels different and this releases some of the anxiety you have been holding in.
Your confidence during these turbulent times comes from getting through each day, sometimes even each hour. Try your best to remember that this will get easier and make you stronger. Once you get through the trying time, it will be the biggest confidence boost you could ask for.
Take Good Care,
Em
Emily is the author of Express Yourself: A Teen Girls Guide to Speaking Up and Being Who You Are.You can visit Emily's Guidance Girl website. You can also find her on Facebook, Google+ and Twitter.
APA Reference
Roberts, E. (2012, September 5). Maintaining Confidence and Control Amongst Chaos, HealthyPlace. Retrieved on 2023, December 6 from https://www.healthyplace.com/blogs/buildingselfesteem/2012/09/maintaining-confidence-and-control-amongst-chaos
Author: Emily Roberts MA, LPC
I know it's years later, but yes, lots of people experience that same thing you described, Samantha, where you can keep it together during the crisis and don't actually fall apart until afterwards, when things have calmed down.
It sounds like your amount of crises were enough to keep you busy for a very long time, though. In that case, you might not have the stamina to keep it together that long! Likely, these skills help if you use them intermittently and practice them often (along with several other skills).
My problem is not the time during the chaos but when things calm down is when I freak. I have been so emotionally cookoo the last few days. I went through a period where my truck got stolen, my husband lied about paying rent and car payment now we are going through eviction and the car got taken back, my house got broken into, my husbands grandmother wants nothing to do with us or her grandchildren, I found out a couple of my friends were spreading rumors behind my back, phone got shut off, husband lost job, and there is even more I haven't listed!
Does anyone else handle stress good but afterwards freak out? I'm afraid I'm going to go into s serious episode here. I don't know what to do besides keep myself busy.
Hi Samantha, Sorry to hear you are going through a difficult time. I believe that we can look a the times of less turbulence as an opportunity to learn and grow from the chaos that we just endured, as well as recharge. Use this time to potentially explore yourself more; get into positive habits and routines, reach out to those people in your life that are supportive or who have helped you during this time, thank them or spend time with them; create more positives during the chaos, so the next time something comes up, you will have more to rely on. For example, when I am not in a busy time with work, I often use this time to reorganize, spend more time on myself, and time with family and friends that are positive lights in my life. I hope this helps. Good Luck!
Take Good Care, Emily
Thanks for this post, you're timing is perfect.
Leave a reply