Parents Give Up Custody to Get Help for Mentally Ill Daughter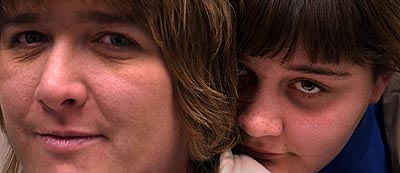 Christy Mathews (left) has resisted giving up custody to get care for her daughter Lauren.
"I don't want her to think we're giving her away." (Michael E. Keating photos)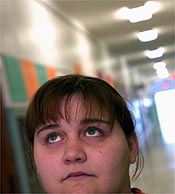 Lauren Mathews, 15, at the Hamilton County Special School in Norwood. She has been hospitalized repeatedly for mental illness, including violent moods and voices in her head. Her family can't afford long-term psychiatric help.


| MORE PHOTOS |
Christy Mathews struggled for years to pay for treatment for her mentally ill daughter, a 15-year-old who burns and cuts herself and last year threatened to stab her mom with a steak knife.
Desperate and afraid, Mathews tried to get Hamilton County officials to pay for Lauren to live in a psychiatric facility. A social worker finally told her she could get help - if Mathews gave up custody of her daughter to the county.
"I shouldn't be forced to give my daughter up to get her the help she needs, but that's how the system works," she says. "What you have to go through is unreal."
Mathews refused to turn over Lauren, but thousands of parents in Ohio and elsewhere have been forced to give in.
In the past three years, Ohio parents who've run out of insurance or money have given up custody of as many as 1,800 children so the government will pay to treat their mental illness, a Cincinnati Enquirer investigation has found.
Even then, kids don't always get the help they need. Ohio counties place more than 7,000 children a year in centers where some are abused, molested, improperly drugged and left in wretched conditions, an examination of inspection records, court documents, and interviews reveals.
At least 38 of Ohio's 88 counties acknowledge taking children from parents, who give up their rights to say where their kids are sent for treatment, how long they stay or even what kind of medicine they are given.
County officials say that obtaining custody is the only way they can tap federal money to cover treatment costs that run as high as $1,000 a day. But not even Michael Hogan, director of Ohio's Department of Mental Health, defends the practice. "We must stop trading custody for care. It's terrible," he says. "A civilized society should not do this."
Trading custody for care is a "travesty," adds Gayle Channing Tenenbaum, a lobbyist for the Ohio Public Children Services Association.
"As a state," she says, "we've totally given up on these kids."
A 'terrible problem'
More than 86,000 children in Ohio are mentally ill, and many parents find that insurance money for treatment runs out long before their kids get better. Unlike coverage for physical diseases and ailments, policies typically limit benefits for mental illness to 20 to 30 days a year.
That's usually far too little. So parents frequently spend years bouncing from one agency to another - only to be told by each that no money or treatment options are available. 
KEY FINDINGS

The Enquirer found that Ohio's system for treating children with mental illness is entrenched in bureaucracy and plagued by abuse. Our investigation found:

- Insurance plans that pay for other illnesses severely limit what they pay to treat mental illness.

- To get public help, thousands of parents who can't afford treatment give custody of their kids to the government.

- Some children sent to treatment centers are abused, molested, overdrugged or left to live in wretched conditions.

- Shortages of psychiatrists, staff and treatment centers mean long waits for care - or none at all.

- No one's in charge. Two state agencies and hundreds of county agencies confound even the people running them.
"When it comes to mental health, the system is lacking, lacking, lacking," says John Saros, director of Franklin County Children Services. "And when the system isn't working, very decent parents go to extreme measures for their child. It's very, very frustrating because I see us doing bad things to kids in the name of trying to help them."
Parents find themselves staggered not only by the costs but by a complex bureaucracy that puts as many as five different agencies in a single county in charge of different aspects of one child's care.
Ohio's 88 counties operate 55 public children's services agencies, 33 public children's services boards, 43 mental health, and drug addiction boards and another seven mental health boards. The Ohio Department of Job and Family Services and the state Department of Mental Health, the two state agencies that are supposed to watch over all the county agencies, don't even share information on children.
Barbara Riley, assistant director in Job and Family Services, first said federal law prohibited the agencies from talking to each other about children in the system. After checking with her legal staff, she said they could share data - but don't.
"I have learned that I have more latitude than I thought," she says. "The conversation now has to start about what we know, who knows it and where information is housed."
While officials try to sort it all out, parents who navigate the different agencies might get lucky and find treatment for their children. But thousands never do, or they live in poor counties where there is no treatment to be had.
"There are long waiting lists, a lack of well-trained people, and a lot of times people don't get referred for help unless they are suicidal," says Tenenbaum, the children's lobbyist.
As a last resort, some parents turn to county child welfare agencies that can tap into federal funds originally set aside to help care for abused or neglected children. But such agencies say they can't get the federal money unless children are in government custody - so parents desperate for help sign away their kids.
"It's really sad. Families do everything from giving up custody to selling their houses to pay for care," says Dr. Mike Sorter, director of the division of child psychiatry for Cincinnati Children's Hospital Medical Center. "What other illness is there that forces you to give up custody of your child in order to get them help?"
Staggering costs
Ohio's system is so disorganized that no one can say exactly how many parents have been forced to give up their mentally ill children, although the Enquirer found the practice occurs in at least 38 counties including Hamilton, Butler, Warren, and Clermont.
Counties that don't trade custody for care include those that pool resources from different agencies and rural counties with fewer children.
The state Mental Health Department estimates that 300 families give up custody of children each year, but advocates who work in the field maintain that 600 is a more accurate number. Giving up custody is no formality, either. Parents often have to go to court to get their kids back.
Yet a federal study found that families in 13 states, including Kentucky, gave up custody of 12,700 kids in 2001.
Roger Shooter, director of the Knox County Job and Family Services agency, says counties are in a no-win situation. They don't want to take custody from parents, but officials say they can't afford the costs of treating a mentally ill child without federal help. "We've got kids who are purely mentally ill that are costing $350 a day," Shooter says.
Such rates are commonplace, records and interviews show. Last year a treatment center charged one county mental health board $151,000 - $414 a day - for treatment alone for one child. Centers charge child welfare agencies additional money - as much as $340 a day per child - for room and board.
Add the cost of medication, and costs can grow to more than $1,000 a day for children who are mentally ill, especially if they also are drug addicted, sex offenders, fire setters, violent or schizophrenic.
Hamilton County sent more than 200 kids to treatment centers over the past eight months and paid $8.2 million for their room and board costs. Some children stayed a few days. Others stayed for months.
Some question how long Ohio taxpayers can continue to pay such astronomical bills - even with money from the federal government. "There is no way parents can afford the treatment centers, but there is a serious concern as to whether or not the child welfare system can afford them, either," says Saros, the Franklin County director.
Some children are sent out of state when beds aren't available locally. County officials say that social workers have traveled as far away as Missouri or Texas to check on children. In December, counties had 398 kids in out-of-state homes, including treatment centers, group homes, and foster homes. 
"Finding beds is a huge issue. If a kid comes in at 5 p.m. on a Friday afternoon you can't leave him in the waiting room all weekend. You have to find a place for him and move him through," Saros explains.
"These aren't easy kids to help. Some have learned a lot of horrible behaviors, and everybody is trying to figure out what to do with them."
What to do?
Mathews, the Delhi Township mom, knows how hard it is to find help for her 15-year-old-daughter, Lauren, who has posttraumatic stress disorder, lithium-induced diabetes and bipolar disorder, which causes severe mood swings.
The teenager has taken 16 medications in the past four years, from anti-psychotic drugs to mood stabilizers. She also has been hospitalized eight times for her mental illness. Her mom, dad, and teenage brother have been through extensive group therapy trying to find a way to help.
Nothing's worked.
"She has no friends, no one to talk to and nothing to do. She is deeply depressed," says Mathews, who starts to cry when she describes Lauren's illness. "I have a 17-month-old baby at home and with my husband losing his job, the new baby and taking care of Lauren, I'm just exhausted."
Later, in a bare conference room in the psychiatric unit at Cincinnati Children's Hospital, Lauren shows little emotion when her mom talks about the problems. She slumps in a chair in her oversized jacket, her short brown hair pulled into tiny pigtails.
"I'm bored," she says finally.
She pulls back a jacket sleeve to reveal a line of scars running up her arm and smiles a little. She got them after repeatedly cutting and burning herself with knives and cigarettes. "Her anxiety has been so horrible that she has cut and picked at her entire body," her mom explains.
Lauren just shrugs. "People talk too much," she says. "It annoys me."
Mathews, 36, desperately wants Lauren sent to a long-term facility for treatment, but not if it means relinquishing custody. "My child has a mom and dad. She has a family. Why would I put her in foster care?" Mathews says. "I don't want her to think we're giving her away."
She would pay for care herself but her husband is laid off from his truck-driving job. "We are a middle-class family. "We don't have $8,000 to $10,000 a month for care. What are we supposed to do?"
Last month, Mathews had one hope left. She was trying to persuade the county to pick up the tab for her daughter through a local mental health program called Hamilton Choices. But Lauren had waited more than six months for an assessment, and the family didn't hear from a Choices official until mid-February - the day after the Enquirer called the agency to inquire about her case.
The agency met with Lauren that same week and told her the county hadn't contacted the agency about Lauren until three weeks earlier. "If the paper hadn't gotten into this, I never would have heard from them," Mathews says. "That's what it takes to get someone to pay attention to you in this system."
On March 12, Lauren was hospitalized again after she started hearing voices in her head and acting out at school. So Choices agreed last week to pay to send the teen to a treatment facility in College Hill.
Mathews is thrilled her daughter is finally getting treatment but hopes it's not too late. She recalls that Lauren got so violent last fall that she threatened to kill herself with a steak knife and the police had to handcuff the teen just to take her to the hospital. Next time, Mathews worries, Lauren could actually hurt someone or end up going to jail.
"She's going to be 18 in three years and she will be out of the system. If someone doesn't help her, she'll either be in prison or pregnant, and either way they'll have to support her then," she says.
"Why not help her now?"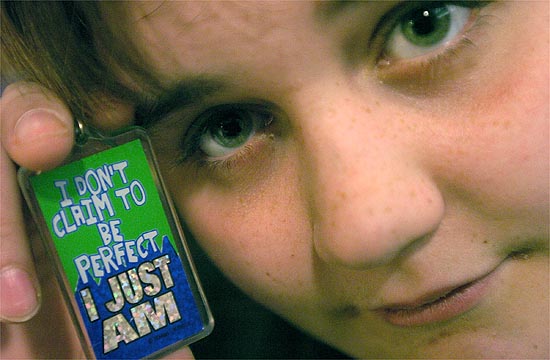 Lauren Mathews is bipolar and suffers from hyperglycemia, diabetes, and coronary disease as a result of medication, bad eating habits and smoking. Last week, after years of trying, her family finally got help for her. These pictures tell part of her story.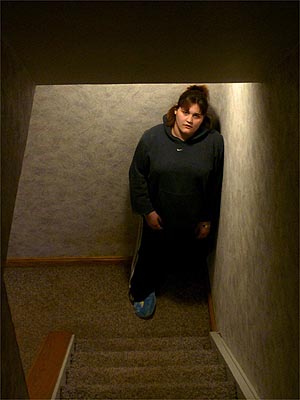 The foot of the basement steps is Lauren's favorite "chillin'" spot. For her medical problems, Lauren has taken 16 medications in the past four years and has been hospitalized eight times.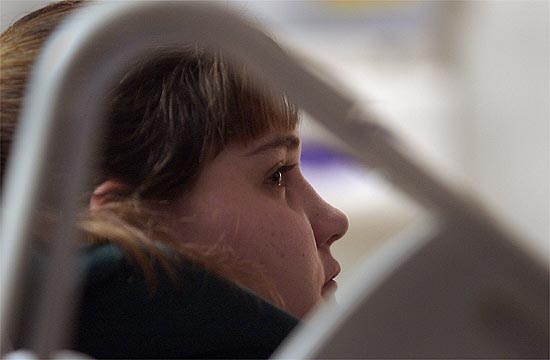 Lauren Mathews is bi-polar and suffers from other complications, including hypoglycemia and coronary disease as a result of her medication, eating habits and smoking. Here, she is framed by a hospital bed rail. She was hospitalized for four days to treat diabetes.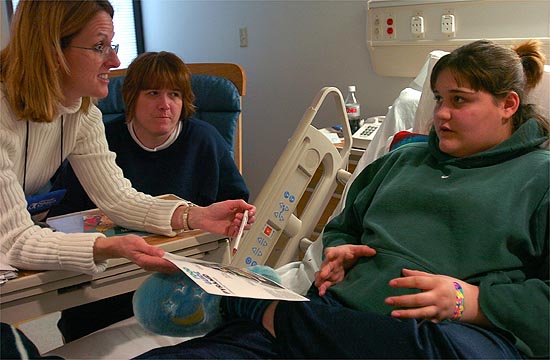 Dietician Ivy Sheehan directs Lauren toward nutritional foods.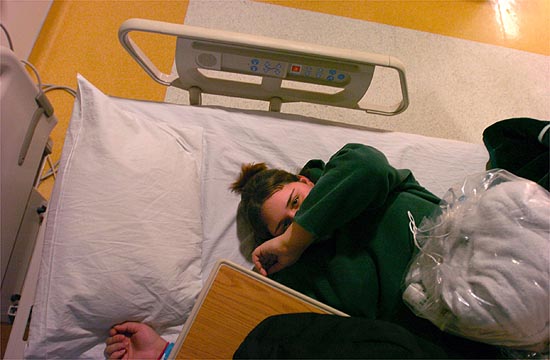 Lauren waits impatiently for her discharge from the Children's Hospital Medical Center. She had her belongings packed hours in advance.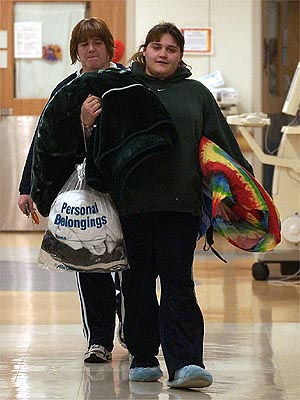 Accompanied by her mother, Lauren leaves Children's Hospital.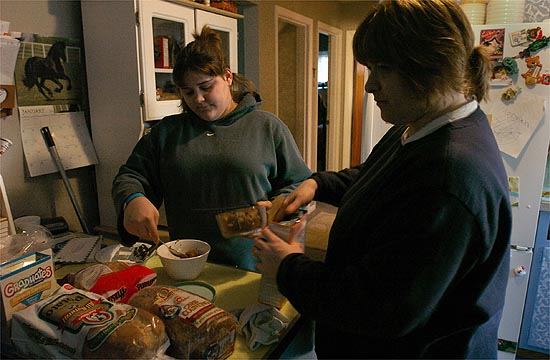 Lauren and her mom, Christy, talk about eating as Lauren spoons up a bowl of beef stew.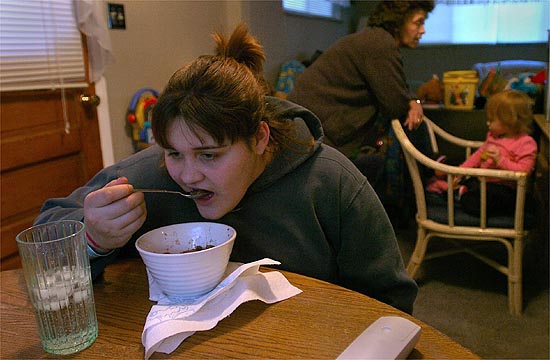 Lauren eats a bowl of beef stew as her grandmother, Shirley, plays with Lauren's sister Morgan in the background.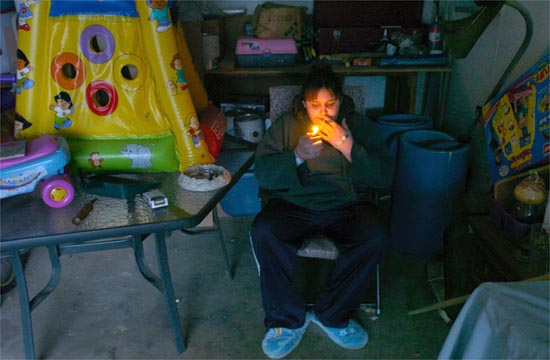 Illuminated only by the glow from her lighter, Lauren lights up in her "chillin' spot."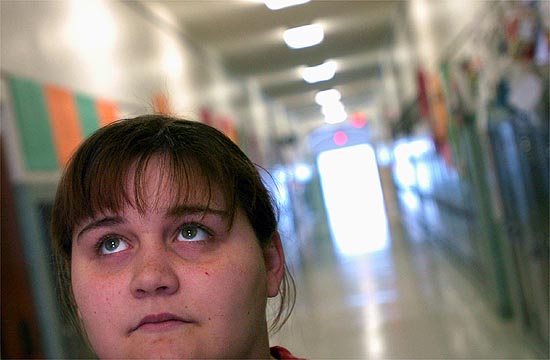 Lauren attends the Hamilton County Special School. Her attendance has been inconsistent due to health reason, and she has failed to earn any high school credit in the past two semesters.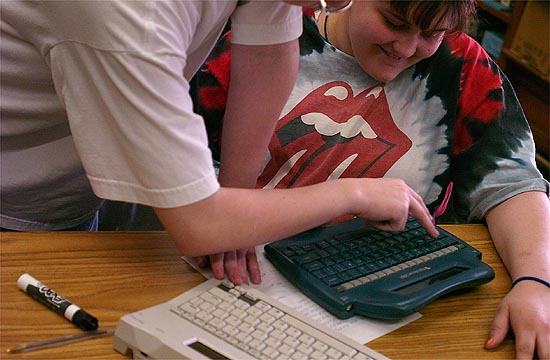 Lauren attends Hamilton County Special School, but her illnesses have made attendance inconsistent. Last week, she moved into a psychiatric facility in College Hill, where she will get more in-depth attention.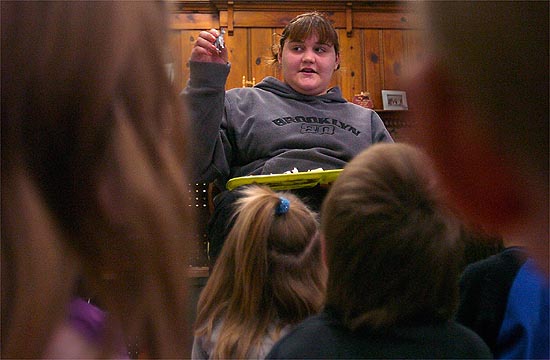 Lauren reads and interacts with Norwood Head Start students.
Photos by Michael E. Keating
Source: The Enquirer
APA Reference
Staff, H. (2022, January 17). Parents Give Up Custody to Get Help for Mentally Ill Daughter, HealthyPlace. Retrieved on 2023, December 11 from https://www.healthyplace.com/parenting/child-mental-health/parents-give-up-custody-to-get-help-for-mentally-ill-daughter
Last Updated: January 18, 2022